3DAllusions Forum Challenge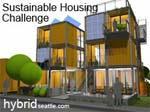 3DAllusions Forum - Time for another challenge, this one was sparked by the forum discussions on green/sustainable housing.
Don't forget to stop by our forums, that is where the real action is!
This time around we are going to challenge your design skills and see what kind of modular housing you can come up with using Cargo Containers as the base modules of your design. We are providing two rudimentary cargo container models for your use, whether you use these models or your own, they give the basic size for 20 ft and 40 ft units and a starting point. The main idea is to have fun and come up with some creative housing using modular cargo containers as the building blocks, how you use them and what you add to them is up to you, we do want to see at least parts of the containers visible in your design but the structure is not limited to the use of them.
Charrette #9 - Cargo Container Home