CINEMA 4D R10.5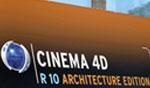 MAXON unleashes CINEMA 4D R10.5
New version delivers new interface to Allplan BIM 2008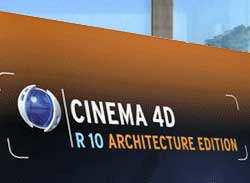 MAXON released a dramatically enhanced version of its CINEMA 4D software. Sporting a wealth of new features added to the core CINEMA 4D program, the update also takes in a number of enhancements that have been made to CINEMA 4D's optional modules. Especially the connection to Nemetscheks new version Allplan BIM 2008 guarantees loss-free transfer from CINEMA 4D R10.5.

One highlight is the new DWG import filter. CINEMA 4D users now have access to one of the most widely used CAD exchange formats on the market. A further boost to file exchange for customers in the architectural field is the new interface to Allplan BIM 2008, the leading object-oriented 3D design software for Building Information Modeling (BIM). It offers a complete range of functions from 2D drawing, 3D design, to object-oriented building modeling with quantity and cost determination.

Users working as a team are set to see a huge benefit with the eagerly anticipated arrival of XRefs. These external references allow a large scene to be broken down into parts, each of which can be worked on separately to the master project file. This allows multiple users to work on the same project file at the same time for super fast project turnaround. Further additions bolstering the update are new modeling tools, a completely new way to light scenes, plus a powerful new method to unwrap UVs of organic objects without undercuts.
Naturally, workflow is another area MAXON is always improving. Lots of tweaks here and there will help users to work more efficiently and include extended functionality in the Head Up Display (HUD), which now allows data to be dragged and dropped directly into the viewport. Additionally, the timeline has been refined to enable users to work faster than before. A new summary track allows the entire animation to be edited as a whole, while the new reduced modification mode greatly simplifies the process of editing complex f-curves.
In terms of the modules, key changes were made to MOCCA, MoGraph and HAIR. Animating characters in MOCCA has never been easier thanks to over 25 improvements, such as Squash & Stretch features and new Deformers. MoGraph boasts new effectors and cloning options, allowing this must-have module for state of the art motion graphics to flex its muscles even further. And hair rendering is dramatically faster with full support for multicore and multi-CPU machines.
With a total of over 90 substantial improvements packed into the update, Release 10.5 makes its mark as arguably the most comprehensive .5 update in CINEMA 4D history. The CINEMA 4D R10.5 upgrade is available for purchase immediately from MAXON or your MAXON products distributor.

MAXON Computer is the developer of professional 3D modeling, painting, animation and rendering solutions. Its award-winning products have been used extensively in the film, television, science, architecture, engineering and other industries. MAXON products have been used for and in Beowulf, all three Spider-Man films, Surf's Up, Fantastic Four: Rise of the Silver Surfer, Ghost Rider, Open Season, all three Pirates of the Caribbean films, Monster House, Eragon, Superman Returns, The Chronicles of Narnia: The Lion, the Witch, and the Wardrobe, Serenity, War of the Worlds, Polar Express, The Flight of the Phoenix, Van Helsing, King Arthur, Star Wars: Episode II - The Attack of the Clones, the On-Air Packages for TMZ T.V., Comedy Central, Monday Night Football, Jeopardy, Wheel of Fortune, ESPN, NFL Network, TiVO, NBC, DirecTV, CBS NFL, Smart House, Fox and many more. MAXON has offices in Friedrichsdorf (Germany), Newbury Park (CA, USA), Bedford (UK) and Tokyo (JP).