Houdini Apprentice HD, the Starving Artist Edition


Side Effects Software has just released a $99 non-commercial version of the Houdini 3D animation package.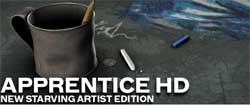 Houdini Escape is ideal for a wide range of projects including CG feature films and television series. Houdini Escape is ideal for rigging and animating characters and for lighting. Animated characters can be rendered in Houdini Mantra or in other popular 3rd party renderers.
Learning and trial versions of 3D Animation software have always come with lots of limits such as annoying watermarks that blemish the artists work, says Kim Davidson, President and co-founder Side Effects Software. With Houdini Apprentice HD we have taken away the watermark and put our focus on giving artists, enthusiasts and students the perfect tool for developing personal art and animation on a shoestring budget.
Houdini Apprentice HD will render still images at any resolution and animations at a maximum resolution of 1920x1080. The new Houdini Apprentice HD uses the same non-commercial file format as Houdini Apprentice and artists can share files between the two versions.
Higher Learning
Schools and training facilities will also benefit from this program as students working with either the free Houdini Apprentice or Houdini Apprentice HD will be able to bring their work into the computer lab and render watermark-free at HD resolutions. Institutions interested in learning how Houdini Apprentice can provide low-cost solutions to their students, please contact Side Effects Softwares Training and School Accounts Manager Aliza Sorotzkin for more details.
By supporting Individual artists in addition to students, Side Effects is recognizing CG as first and foremost a visual art form which shines more brightly when not encumbered by a corporate rubber stamp. says Sandip Patel, Chief Operating Officer of Digital-Tutors.Making CG more accessible for artists has always been one of our key goals and we are pleased to announce that Digital-Tutors is working on some exciting Houdini training and educational initiatives in collaboration with Side Effects.
Available Now for $99