RTTs 3D Realtime Configurator at BMW Welt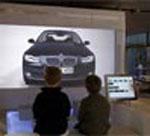 RTT delivers an outstanding 3D realtime configurator to the permanent exhibition of the recently opened BMW Welt
Virtual Dream Cars on Demand RTTs 3D Realtime Configurator at BMW Welt Raises the Bar for Product Marketing .
In the new BMW Welt dreams come true. Car enthusiasts can immerse themselves in the dazzling virtual world of a 3D realtime configuration system. At the touch of a button, visitors can create their own BMW on a large presentation wall. They receive a realistic picture of the car of their dreams; the car becomes an experience. This is achieved with unique technology supplied by Realtime Technology AG (RTT AG), a leading provider of 3D realtime visualization solutions and services. For the first time, a configuration system enables the set-up of 17 current BMW models in all-time first photorealistic quality, without loading time lag and in realtime. Uniquely developed for the BMW Welt, the BMW Design Configurator is controlled by RTT POS Software. Dynamic images for the high-resolution projection are rendered by RTT Powerwall. For the first time, the entire configuration system is suited to a range of media formats and can also be used as a presentation platform. The 3D realtime configurator has impressed visitors at the permanent exhibition since the opening of BMW Welt.
The 3D realtime visualization solution allows the configuration of 17 BMW models in realtime. In the process, up to 300,000 different configuration options are available. BMW Welt visitors are presented their personal dream models without having to wait for the images to be loaded. They can select design features such as car paint, rims and interior specifications. The configured model can finally be viewed from an unlimited range of camera perspectives. The photorealistic visualization of these BMW models required processing of nearly 200 GByte of raw data. The final visualizations of the 17 vehicles have a data size of about 17 GByte in total.
Outstanding Exhibition Performance
The unique quality and performance of the BMW Design Configurator is provided by RTT Powerwall, the cluster version of RTT DeltaGen and RTT DeltaView. The RTT DeltaGen visualization software manages the processing of complex 3D files for realtime visualization of high-end quality. In addition to geometric processing, high-quality visual effects can be applied to data which are presented in realistic environments. The entire configuration system is ideally suited for a wide range of media: it can also play PowerPoint presentations and DVDs with sound. Therefore, the system also serves as a presentation platform. We are proud to have the opportunity to present our 3D realtime solution at the BMW Welt, explains Christoph Karrasch, RTTs Member of the Board. We have been working closely with BMW in Munich for many years and we now have added another highlight to this partnership. The 3D realtime configuration system at the BMW Welt is a unique, tailor-made solution which delivers a level of quality in 3D realtime visualization never seen before.
Impressive Installation
For the installation, RTT was supported by its partners ICT, Videocation and MKT. A touch screen with a trackball ensures an intuitive handling. The 3D model is presented on a large projection surface with an 8.8 megapixel resolution. The projection is achieved by means of a reflected back-projection. Further technical components of the installation include:
Projector: Sony SXRD 4K projector
Fujitsu Siemens Computers model R640; Memory: 5 x 16 GB RAM
Graphics cards: 5 x NVIDIA FX 5600
Uninterrupted power supply