MAXON'S BODYPAINT 3D BEARS ALL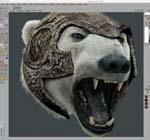 MAXON'S BODYPAINT 3D BEARS ALL IN 'THE GOLDEN COMPASS' BodyPaint 3D used by Framestore CFC.
MAXON , the leading software developer of professional 3D modeling, painting, animation and rendering solutions, today announced that its award-winning BodyPaint 3D texture painting software application was used extensively by artists at Framestore CFC for their work featured in New Line Cinema's 'The Golden Compass'. Framestore CFC was selected by New Line for the challenge of bringing numerous characters of the script to life, including the armored polar bears that feature prominently in the movie.
Framestore CFC worked intensively for over 15 months to create the film's bears and environments in which they appear. MAXON's BodyPaint 3D was used extensively throughout the creation process to paint texture maps for the bears lorek, Ragnar and the guard bears, their armor, as well as for props, digital doubles and environments.
Based on Philip Pullman's trilogy 'His Dark Materials', 'The Golden Compass' is set in a parallel world that is similar to our own, yet very different. In this world, witches rule the northern skies, ice bears talk and are the bravest of warriors and every human is entwined with an animal spirit. The movie focuses on the adventures of a young girl who embarks on an extraordinary journey from the academic cloisters of Oxford to the magical heart of the frozen top of the world. Her companion and helpmate through some of her adventures is lorek Byrnison, a gigantic, armored polar bear................................