Free Training - Onyx Trees/V-Ray Proxy/Arch Viz Walls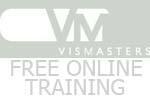 VisMasters in partnership with CGarchitect.com is offering three free online classes in January.

VisMasters is hosting more FREE Online Live video training in January. Free streaming audio is also now included for anyone who does not want to call the US toll number. You will be able to ask questions at the end of the session either by phone or using your a computer headset/microphone.
The classes are:
Creating Onyx Trees
An In-Depth Look at the V-Ray Proxy
Building walls – Lofts vs. Edit Polys
For more info you can visit here