Pixila - Free Online Artist Protfolio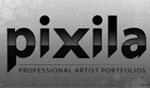 Pixila is a ground-breaking website specifically developed to provide cutting-edge professional portfolio services to creative artists and agencies, all 100% free.
Combined with highly personalized member galleries, unlimited album and image uploads, specialized portfolio management, professional gallery presentation, and peer to peer tools more powerful than you've ever seen before, Pixila easily blows the competition away.
Developed from the ground up to suit any artist in any industry, Pixila is the portfolio site you've been waiting for. Digital, traditional, visual and fine artists will find the gallery features just as intuitive as designers, painters, photographers, illustrators, architects and sculptors alike. After all, it was developed by artists just like you.
Becoming a member of Pixila is easy! Within minutes, you can have access to your own personalized artist portfolio loaded with advanced features as well as instant networking with thousands of other Pixila artists throughout the world. All 100% free!
Please visit Pixila and join the revolution!