N-Sided announces the release of QUIDAM 2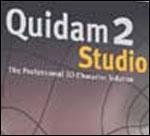 N-Sided® announces the release of the version 2.0 of QUIDAM, the character creation software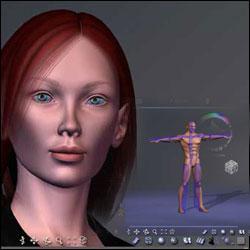 Already greeted for its speed, its very intuitive interface and its productivity, QUIDAM is unique in merging various anatomical elements into one seamless model. A single Base (Model Pack) of QUIDAM can generate billions of different characters! Moreover, QUIDAM offers artists a full set of advanced tools for sculpting and retouching creations to the last detail.
QUIDAM is the only software that exports multiresolution 3D characters, entirely textured and ready to be animated into any 3D animation software.
This brand new version 2.0 of QUIDAM will delight all the digital sculpture fans:
A real-time 3D Painting palette offers a wide variety of creative tools to paint directly on the volume colors, textures, transparency, relief& as if you were painting on a canvas.A brand new very fast Ray-Tracing rendering engine that digs into images to the finest details to give crisp and photo-realistic results.
Automatic Skinning, Smooth Weight, predefined Skeleton Catalogue& professionals and advanced hobbyists will enjoy using this new module that dramatically eases the tedious task of Setting up the character for animation. And a lot more new features to discover&
Embark in QUIDAM 2 and prepare to explore 3D as you never did before!

QUIDAM 2.0 in details:

Real Time 3D painting
QUIDAM 2 will feature a new complete set of artistic tools to let you paint directly onto your characters.
Discover a natural way to apply colors, textures, transparency, bump or normal maps as if you were painting on a canvas.
Create as you imagine: offering real-time visualization the Painting Palette has been designed to be seamlessly integrated into the creation work flow.
New photo-realistic rendering
QUIDAM will be powered by a brand new very fast Ray Tracing Rendering engine. It digs into images to the finest details to give crisp and photo-realistic results. Customize lighting and shadowing, apply lighting presets on your scene, create cartoon rendering... in a snap.
QUIDAM will also offer a blitz scanline rendering to quickly produce previews and fine renderings.
Cartoon Rendering has been significantly improved to let users explore new graphic impacts.Advanced character setupWith a new and much improved Advanced Character Setup Mode, QUIDAM 2 introduces a new Automatic Skinning function. This key feature will allow advanced users to save a lot of time at setting up a character.
Import an OBJ model, place a skeleton of your own or choose among those offered by QUIDAM, apply the Automatic Skinning, some brush strokes to retouch if necessary... and you are done!
-A Skeleton Catalog will offer many predefined bones structures.
-A new Smooth Weight mode will help you handle skin elasticity on complicated body parts.

And a bunch of new other features!
New Collada support (additional)
Import optimizations
Improved .QUI format
A new Smart Symmetry Detection system to deal with models that are not completely symmetrical
New .QUI models
New textures
New props, hair, clothes...