Fryrender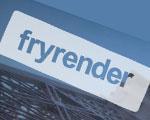 Fryrender is the unbiased spectral renderer developed by Feversoft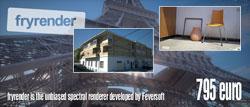 It is physically-based up to the point that all the elements involved in the render process (lights / materials / cameras) are simulated using physically accurate computations.
This means that fryrender performs a photographic simulation that produces true-to-life renditions. Besides, fryrender is very easy to use, since there are very render parameters. Things just look the way they have to, once the materials lights are set up.
Moreover, fryrender is the first render engine of its kind capable of rendering scenes into a format that can be navigated in real-time with the aid of Feversoft's own Virtual Reality engine Random Control 4.
fryrender offers the most realistic results, combined with the easiest interface, the richest set of features ever seen in the unbiased market, a very fast-paced development, and a close and friendly technical support.
Layer blending in Fryrender
In Fryrender each light can be assigned to eight light layers including additional layer for physical sky and sun, allowing to mix them dynamically anyhow you want during or after rendering process. Each layer has its own power, RGB and temperature sliders.
GENERAL FEATURES
- Physically-based spectral rendering
- Unbiased progressive rendering
- Full global illumination
- Powerful-yet-minimal user interface
- Physically-based materials
- Mesh emitters and image-based lighting
- Physical sky and HDRI environment
- Real camera optics simulation
- Integrated Layer-Blending for multiple light source combination
- Tonemapping based on human perception of light
- Multi-processor / multi-core / multi-thread support
- Distributed network rendering
- Compositing capabilities (alpha, depth, normals, objid, mtlid, velocity, volumetrics, AO, matte)
- Output to Feversoft's propietary Virtual Reality engine
MATERIAL SYSTEM FEATURES
- Fully parametrizable unified shader system
- Multiple material layer blending
- Fresnel, IoR, Custom IoR
- Full dielectric transmission support
- Dielectric absorption
- Dispersion
- SSS
- Opacity mapping
- Bump / normal mapping
- Global or mapped roughness and anisotropy
- Plastic or thin-film interference coatings
- Iridiscence
- Built-in procedural maps
- MPDM
ILLUMINATION FEATURES
- Mesh emitters
- Image-Based Lighting
- Physical atmospheric lighting
ENVIRONMENT FEATURES
- Physical sky and Sun
- Full daysky cycle (both day and night)
- Daysky cycle animations via timestep
- Environment / background / reflections mapping
CAMERA FEATURES
- True camera optics and reflex camera simulation
- Lens diameter
- Diaphragm aperture (f-stop)
- Shutter-speed
- ISO film
- DOF
- Focal distance and auto-focus
- Camera clipping (z-clip)
- Shift film
- Camera motion blur
TONEMAPPING FEATURES
- Color mapping and tone reproduction based on human perception
- All the internal computations happen in HDR wavelength spectrums
- Real-time exposure, gamma, RGB, saturation, contrast and temperature controls
- Real-time camera vignetting
- Lens glare with real-time feedback
- Bloom with real-time feedback
- Overall power and appearence calibrated with real photography
ADVANCED FEATURES
- Micropoly Displacement mapping
- Geometry instancing
- AERONOISE technology (dynamic render region render)
- Layer-Blending for multiple light source combination
- Exit portals for optimized interiors with natural illumination
- Advanced lens effects
- SSS
- Single-sheet SSS (S5)
VIRTUAL REALITY FEATURES (not included until release one)
- Full integration with Feversoft's propietary VR engine (Random Control 4)
- Ability to render into a format our VR engine can navigate in real-time
- Full GI precomputation for VR like never before
- RC4 real-time player (rc4player.exe) included