Digital-Tutors Announces modo 301 Training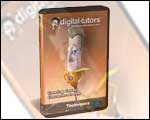 Digital-Tutors new training provides a comprehensive guide to learning cartoon character in modo 301
New training provides a comprehensive guide to learning cartoon character creation and modeling, texturing, and rendering techniques with modo 301.
Digital-Tutors, a leader in video-based training, announced the availability of 'Creating Cartoon Characters in modo' - the first release in a new library of interactive training for emerging digital artists learning modo, the artist-friendly 3D software for the PC and Mac. 'Creating Cartoon Characters in modo' provides over six hours of project-based training and guides artists through a time-saving approach to character creation, art direction, look development and the processes of modeling, texturing, and rendering cartoon characters using modo 301. Creating Cartoon Characters in modo training is available as a download and also ships on disc.
"Creating characters in modo is downright fun and Digital-Tutors has really captured the essence of how to do it in this new training series," said Bob Bennett, VP of Marketing for Luxology.
"In adding modo to our training library and speaking with the artists requesting training, creating cartoon characters was among the most widely requested," said Kyle Green, Director of Curriculum Development for Digital-Tutors. "We're excited to collaborate with Luxology and develop a collection of training products for artists learning modo," said Green.
Learn an artist-friendly workflow to character modeling, texturing, and rendering with modo 301. Contains over 6 hours of project-based training for artists learning modo and the artistic processes of creating stylized cartoon characters as seen in animated feature films.

Popular highlights include:
Look Development
Exaggerated Proportions
Adding Appeal
Mesh Sculpting
Image-based Sculpting
Vector Displacement
Painting Textures in modo
Utilizing Shader Tree
Global Illumination
Constraining to Background
Copying/Pasting Polygons
Reusing Geometry
SDS Subdivide
Sub-D Modeling Tools
Morph Maps for Facial Expressions
Deformers
Combining Falloffs and other Tools
Combining Images with Effects in Shader Tree
Organizing Item List
Pen Tool
Loop Slice
Mirroring Geometry
Modeling with Symmetry
Element Move
Selection Methods
Edit/Delete Message


Creating Cartoon Characters in modo
Highlights from 'Creating Cartoon Characters in modo' include: mesh sculpting, image-based sculpting, vector displacement, painting textures in modo, working in the shader tree, global illumination, constrain to background, copying and pasting polygons, reusing geometry, SDS subdivide, sub-d modeling tools, using morph maps to add facial expressions, using deformers, combining falloffs with other tools, combining images with effects in the shader tree, organizing the item list, using the Pen Tool, using Loop Slice, mirroring geometry, modeling with symmetry, using Element Move, selection methods, and additional lessons developed to teach artists the essentials of cartoon character creation with modo.

About modo
modo 301 is modern, artist-friendly 3D software that combines modeling, sculpting, painting, animation and rendering in a fused workflow for artists creating 3D content and final imagery for design visualization, creative imaging, game development, film and broadcast, educational and scientific purposes. A favorite tool among many designers and artists, modo's innovative toolset offers one of the fastest paths to content creation on the PC and Mac.

About Digital-Tutors
Digital-Tutors is an internationally known innovator of interactive training whose client list includes thousands of students, professionals, Fortune 500 Companies, U.S. government agencies, schools and nonprofit associations from across the globe. Digital-Tutors develops award-winning training solutions for emerging digital artists using a unique teaching approach designed by university professors and industry professionals. Recognized as the largest resource for free online training, Digital-Tutors delivers intuitive project-driven training for artists of all levels.