Making It Look Great 1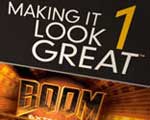 A step-by-step guide through some of favorite techniques for creating an impactful broadcast motion graphics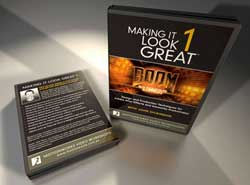 Have you ever wanted to know how the pros get their work looking so sharp?
In this in-depth video workshop, look over broadcast designer and After Effects expert John Dickinson's shoulder as he guides you step-by-step through some of this favorite techniques for creating an impactful broadcast motion graphics promotion.
Making backgrounds with ProAnimator, Fractal Noise and other effects.
Using ProAnimator primitives and textures to create the planet Mars.
Using After Effects' versus ProAnimator's cameras and lights.
Secrets to getting faster workflow.
Preparing Adobe Illustrator files for the smoothest workflow.
Modeling, texture and animating logos in ProAnimator.
Using ProAnimator for beyond-the-ordinary text animations.
Design and production tricks for integrating logos and text using effects such as Trapcode Shine & Starglow and Knoll Light Factory.

Making It Look Great 1
DVD
$49.95

NOTE: This training is available as both a physical DVD and as a download product. During checkout, choose the "Download Only" shipping option to receive the Download Key. Choose a "DVD Shipping" option to receive both the physical DVD and an email containing the Download Key.
System Requirements: Windows and Mac compatible. A DVD-equipped computer is required to use this DVD. Adobe After Effect 7 or higher is required to open the project files. Quicktime 7 (or later) is required to play the video tutorials. Demo versions of 3rd party plug-ins used in these tutorials are included on the disk.
Downloading the movies requires 2.5 GB of disk space.