Got3D Offers Terrific New Collection of Bush Textures!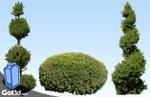 Got3D Offers Terrific New Collection of Bush Textures, How Green Does Your Garden Grow?
Lexington, Kentucky. Got3D released its newest collection of plant material textures today, an assortment of 140 high-resolution bush textures broken into four texture libraries. The bush textures cover a wide variety of commonly utilized species. With sufficient image detail to use in the extreme foreground, this library will find its way into all of your exterior renderings. And because most of the plants are shown from additional angles, you can maintain your environment's high level of verisimilitude in renderings from multiple camera angles.
Each high-quality JPEG texture is paired with a perfectly matched alpha channel and averages 2,000 to 3,000 pixels tall or wide. Introductory pricing for each texture collection is only $30.00.
The Bush Texture Collections add an important subset of landscaping plants to our already wide-ranging assortment of plant materials. From trees to grasses and now to bushes, we've got you (ground)covered! Download a full resolution sample today to test drive before you buy. And as always, this new collection is backed with a 100% satisfaction guarantee!
To see all the new collections and to download a high quality samples, visit us at www.got3d.com. You'll be glad that you did.
About Got3D
Got3D specializes in the production of high value content for use in professional quality renderings and animations. With a wide selection of textures and 3D models, Got3D has grown to become one of the key resources for visualization professionals around the world. Visit us at www.got3d.com to see the very best in high quality textures and 3D models to add new levels of realism to your scenes with astounding ease.