MaPZone 2.6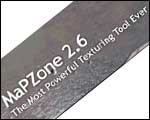 Allegorithmic Ships Free Professional Texturing Software, MaPZone 2.6
Expanded Toolset and Improved Workflow Simplifies Creation of High-quality, Lightweight Bitmap Textures.
Allegorithmic, an emerging 3D technology company developing advanced texturing tools for real-time 3D content creation, today announced the immediate availability of MaPZone 2.6, its free professional texturing software. Based on a revolutionary procedural approach, MaPZone 2.6 enhanced toolset and improved workflow gives artists unprecedented control when creating high-quality, lightweight bitmap textures for animation, game, visual effects, online media, design and architectural visualization projects. MaPZone 2.6 is free and is available for immediate download.
Many of the improvements in MaPZone 2.6 are a direct result of feedback we received from both clients and our growing user community, said Dr. Sebastien Deguy, president and founder of Allegorithmic.The result is an efficient, production-proven program that provides artists with a very fast method for creating high-quality textures.
MaPZone 2.6 is an authoring tool designed specifically for editing and managing textures. Based on Allegorithmic's patented FXMaps technology, MaPZone is the only tool that allows users to locally edit procedural textures to create diffuse, specular and normal maps that are resolution independent, match up perfectly and seamlessly tile automatically.
New and improved features in MaPZone 2.6 include:
New transformation operations, without automatic tiling, allows for precise and fast placement of image elements

New bitmap image input node (similar to existing SVG input node) allows users to mix bitmaps and procedural noises, making it easier to add details and matter to texture creations.

New feature automatically flags normal maps for usage in DirectX or OpenGL.

New functionality allows nodes of the graph to be realigned horizontally or vertically .

Existing connections between nodes in the graph can now be modified by simple drag and drop.

Reposition camera and object in 3DEdit panel to their default positions
Quicker access to Filter Menu by hitting [SPACE] key.