Corona Renderer 1.6 Released!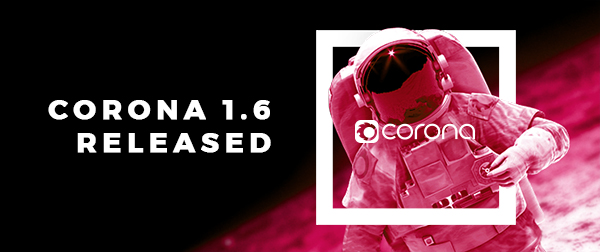 Corona Renderer 1.6 released!
We are excited to announce the release of Corona Renderer 1.6 for Autodesk 3ds Max! The focus is on speed in both rendering and workflow, with completely overhauled Distributed Rendering, improvements to Interactive Rendering, the ability to bake LightMix settings into the scene, the Corona Image Editor for working with your images outside of any 3D application, and the other increased stability and workflow improvements that always accompany every release of Corona Renderer!
Read the full details in the blog post!

The highlights of this release are:
New Distributed Rendering: Corona DR makes it easier than ever to harness the power of all your machines - assets are automatically shared with slave machines if needed, 3ds Max is pre-started to reduce wait times, an improved UI gives more information on master and slave machines, adaptivity and noise level work with DR, and more!
Corona Image Editor: A new application that gives you the familiar Corona VFB tools, outside of any 3D software - use LightMix and Denoising on any Corona EXR without the memory / processing overhead of a host application, without re-rendering. Post-processing tools such as tone mapping, bloom & glare, LUTs, etc. can be applied to any EXR, not just to Corona renders.
The CIE lets you use LightMix and Denoising outside of any 3D software!
Interactive LightMix has an improved UI, and the ability to bake light properties into the scene, making it an ideal way to set up the lighting rather than edit individual lights and materials.
The VFB has several improvements, such as custom curves, sharpening/blurring, fuzzy render regions, and more.
Interactive Rendering now features subsampling for almost real-time updates, plus additional overall improved performance.
IR improvements make working with it virtually real-time!
Faster rendering: The new Stratified random sampler reduces overall noise, while improved environment sampling makes rendering much faster when a contrasty HDRI is used for lighting (e.g. with a baked-in sun). With a host of other speed-ups like 5x faster LUT processing, 33% faster Glare, the latest Embree support, and more, it all adds up to the fastest version yet!
There's more - read the full details on the blog!

Save
Save