MAXON's CINEMA 4D R10.5 and BodyPaint 3D R3.5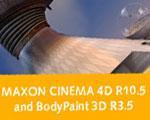 MAXON CINEMA 4D and BodyPaint 3D Help Artists Bring Creative Vision to Life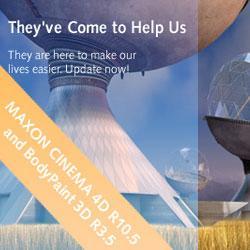 MAXON Applauds Stellar Visual Effects Work of 6th Annual VES Awards Nominees
CINEMA 4D and BodyPaint 3D Help Artists Bring Creative Vision to Life.
MAXON Computer USA, a leading developer of professional 3D modeling, painting, animation and rendering solutions, congratulates Sony Pictures Imageworks and Framestore CFC on receiving highly coveted VES Award nominations from the Visual Effects Society for their work on Surfs Up, Spider-Man 3 and Beowulf, and The Golden Compass, respectively. Artists at these facilities relied on MAXONs CINEMA 4D and BodyPaint 3D to bring characters, backgrounds and environments to life. [Note: The Visual Effects Society VES Awards ceremony takes place on Feb. 10 at the Kodak Theatre Grand Ballroom in Hollywood.
It is extremely gratifying to see artists whove utilized our 3D software being honored for their artistic achievements, said Paul Babb, president, MAXON USA. We feel privileged to be a part of the creative process and to supply artists the tools that help them attain this well deserved level of recognition. We wish all the contenders the very best at the upcoming VES awards ceremony.
The Golden Compass
Artists at Framestore CFC used MAXON's BodyPaint 3D throughout the creation process in the Golden Compass to paint texture maps for the bears Iorek, Ragnar and the guard bears, including their armor, as well as for props, digital doubles and environments.
"BodyPaint 3D" was particularly useful when painting the complex organic shapes of Iorek's rusted beaten metal armor," outlined Daren Horley, CFC's lead texture paint supervisor. "Having BodyPaint 3D in the production pipeline enables us to view textures on geometry and paint directly onto the surface in 3D. No other software does this. The projection paint mode allows quick and easy seam removal in addition, the ability to clone texture from the surface of one piece of geometry across to another proved very useful, especially on the bear armor, as was the ability to alter the size of the clone detail."

Spider-Man 3

Sony Pictures Imageworks used MAXON's CINEMA 4D and BodyPaint 3D software to help shape the third installment of the Spider-Man franchise. Texture artists created detailed textures on objects as minute as a grain of sand and as extensive as multifaceted cityscapes. The facility's matte painters also relied on the software to create realistic digital environments and repaint sky elements in numerous scenes as diverse as the storm in the bell-tower sequence to the richly colored sunrise sky features at the culmination of the climatic battle sequence.
"Many of our largest skyscraper models, as well as the subway cavern on Spider-Man 3, utilized multilayered texture maps as large as 8K square (8192 x 8192 pixels), really pushing the software to its limits," said Elbert Yen, texture paint lead at Sony Pictures Imageworks. "BodyPaint 3D performed like a champ and we were able to paint and publish all the maps without a hitch."
Surf's Up
Matte painters at Sony Picture Imageworks also worked with MAXON software solutions CINEMA 4D and BodyPaint 3D on Surf's Up to create lush, large-scale environments and textures. These included the island, where the big surfing competition takes place - complete with expansive beach scenes with grains of sand and textured surf shacks that for the beach - as well as the detailed penguin feathers, and Shiverpool, Antarctica, the home of Cody, one of the leading penguin characters in the film.
Mike Yazijian, senior texture artist commented that it took nearly two years to complete the texture painting for the film. "BodyPaint 3D played an enormous role in allowing us to incorporate large amounts of data, load hundreds of texture maps without difficulty, and match the look of the 2D production paintings with the rich, organic, painterly look of the 3D models," he commented. "The software offers many 'must have' features for the serious texture painter including a resolution-independent projection export tool, the ability to customize bitmap brushes with various effects, save keyboard shortcuts, and easily enable and disable 3D paint on multiple models."
Sony Picture Imageworks team of 12 matte painters handled the creation of almost all the external environments for Beowulf, a huge task requiring approximately 350 shots.
MAXON CINEMA 4D was used by the matte department to tackle myriad challenges including the creation of ocean shots. "Budgetary restraints made it prohibitive to create waves in CG on all those shots," says Steve Matson, lead painter at Sony Picture Imageworks. "Almost everything we produce comes out of CINEMA 4D as a rendered, finished background plate. The waves ending up looking great, and fit in well with the look of the film."
Matson adds: "We used huge projections that really pushed CINEMA 4D. Some paintings needed to cover a full 360 degrees. We also needed to create additional multiple projection cameras to cover the foreground and mid ground terrain - all within the one project. I don't think we could have done that in any other 3D package with the same ease. CINEMA 4D really handled it well."
About CINEMA 4D and BodyPaint 3D
Widely regarded as the easiest to learn and use application, CINEMA 4D and BodyPaint 3D have become standard tools in the creation of 3D animation across a broad array of industries. Its open architecture, flexible toolset and ability to render straight out to most 2D applications, including After Effects, Final Cut, Shake, Combustion, etc., makes CINEMA 4D and BodyPaint 3D ideal for any pipeline. In addition to feature films, CINEMA 4D and BodyPaint 3D are also used in the creation of television programming, live theater, commercials, music videos, motion graphics show packages and website graphics, as well as medical and scientific visualizations.
About MAXON Computer
MAXON Computer is the developer of professional 3D modeling, painting, animation and rendering solutions. Its award-winning CINEMA 4D and BodyPaint 3D software products have been used extensively in the film, television, science, architecture, engineering and other industries. High profile projects that have relied on MAXON software solutions include The Golden Compass, Beowulf, all three Spider-Man films, Surf's Up, Fantastic Four: Rise of the Silver Surfer, Ghost Rider, Open Season, all three Pirates of the Caribbean films, Monster House, Superman Returns, The Chronicles of Narnia, and the On-Air Packages for TMZ T.V., Comedy Central, Monday Night Football, Jeopardy, Wheel of Fortune, ESPN, NFL Network, NBC, DirecTV, CBS NFL, Fox, and many many more. MAXON has offices in Germany, USA, United Kingdom and Japan. MAXON products are available directly from the website and its worldwide reseller channel.