EXPOSÉ 6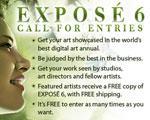 Ballistic Publishing is proud to announce EXPOSÉ 6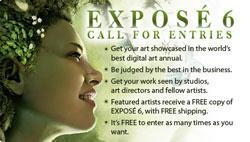 Ballistic Publishing is proud to announce EXPOSÉ 6, the sixth annual book celebrating the creative talents of digital artists worldwide. EXPOSÉ is the digital art industry's premier annual publication, featuring the finest digital artwork the world has ever seen.
Call For Entries - Ballistic Publishing is now calling on artists to submit digital images for consideration in EXPOSÉ 6. Images can be created in any 3D or digital illustration application. Photoshop and digitally manipulated photography is also welcome. We are interested in digitally-created fine art, whether it be 2D or 3D, for commercial use, or personal satisfaction.
There is no cost or limit to enter work for inclusion in EXPOSÉ 6. In the legacy of all Ballistic Publishing showcase publications, all artists with work published in EXPOSÉ 6 will receive a complementary copy of the book and will enjoy worldwide exposure in the premier collection of digitally-created artwork to ever be published.
The EXPOSÉ 6 Awards
The EXPOSÉ 6 Awards will celebrate the highest artistic achievement in a diverse range of categories and styles. Award recipients will demonstrate an outstanding fusion of artistic and technical excellence.
EXPOSÉ 6 Committee
The EXPOSÉ 6 Awards will be judged by a highly talented group of industry leaders and artists including: Lorne Lanning (Co-Founder, President, and Creative Director, Oddworld Inhabitants), Brom (renowned fantasy artist), Christopher Sloan (Art Director, National Geographic Magazine), Stephan Martiniere (renowned science fiction and fantasy artist), David Wright (Creative Director, NVIDIA), Max Dennison (Founder, Matte Painting UK), Phil Straub (renowned illustrator), Ryan Church (blockbuster concept artist), and Jeff Mottle (Founder, CGArchitect.com).
EXPOSÉ 6, Entry Deadline:
Monday February 25th 2008, Midnight GMT

Outstanding Quality
Ballistic Publishing books are renowned worldwide for their outstanding quality. Every image included in a Ballistic Publishing book is color-corrected to ensure that the transfer from the computer monitor to paper is the best possible.