Announcing Dosch 3D: Building Details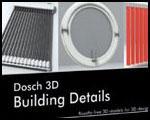 Dosch Design releases a unique collection of 3D-models for architects, engineers and interior designers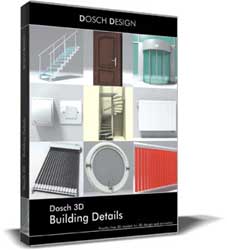 Dosch Design releases a unique collection of 3D-models for architects, engineers and interior designers. The product DOSCH 3D: Building Details contains 100 very detailed and fully textured 3D-models of important building details for interior and exterior visualizations.
The variety of 3D-objects includes doors (hinged, revolving, sliding), stair-cases, heating units, lighting elements, electric outlets and switches, as well as external installations like solar panel, satellite dish, TV-antenna, chimney and security gates for retail business, banks, and many more.
The completely textured 3D-models are provided in multiple file formats: 3DS, 3dsmax (version 8 and above), Lightwave (version 6 and above), Maya (version 5 and above), OBJ, VRML and Cinema 4D (version 8 and above).
The product is compatible with Windows and MAC computers and is priced at 149.00 USD / 119.00 EUR.
About Dosch Design
DOSCH DESIGN offers computer graphics products for 3D design, advertising, print publishing, architectural visualizations, animation, motion design and multimedia presentations. Great attention to product detail and quality is paired with the philosophy of making these products available to the user at a very attractive price. Dosch Design products are useable "license-free", which means no further cost or fees are due when used commercially.