MAXON Announces Power Integration Tour 2008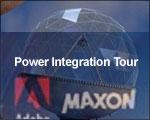 MAXON Computer USA, the developers of CINEMA 4D and BodyPaint 3D, announced the 2008 Power Integration Tour

MAXON Computer USA, the developers of CINEMA 4D and BodyPaint 3D, today announced the 2008 schedule of its highly anticipated Power Integration Tour. The tour is a joint road show with Adobe Systems Incorporated that highlights the ease of integrating MAXONs CINEMA 4D 3D software with Adobe® Creative Suite® 3 Production Premium for a powerful 2D/3D cross platform solution. Representatives from both companies will present a range of dynamic visual effects and compelling motion graphics presentations geared to creative professionals seeking to integrate these two industry leading software applications into film, video, DVD, Web, and mobile device pipelines. The Power Integration Tour kicked-off in seven cities in 2007, drew over 1,500 participants and was deemed an overwhelming success by attendees and industry notables.
The 2008 leg of the tour will include stops in eight major markets, including:.

San Francisco - February 26th
Vancouver -February 28th
Seattle - March 4th
Minneapolis - March 20th
Boston - March 25th
New York - March 27th
Montreal - April 1st
Toronto - April 3rd
Space is limited. Register online at: tour.maxon3d.com .Based on the positive reception we received from artists at tour stops last year, were thrilled to continue our joint partnership with Adobe, said Paul Babb, president, MAXON. Creative professionals are constantly challenged to improve their 3D/2D production pipelines and get the most from their toolkits. Were confident the tour will address artists needs by showcasing the superior capabilities a MAXON/Adobe integrated workflow brings to motion graphics studios.
Each Power Integration Tour session will demonstrate how the combined power of Adobe Creative Suite 3 Production Premium and MAXON's CINEMA 4D can produce stunning 3D motion designs faster and easier than ever before. Attendees will learn about an array of motion graphics topics and be taught how to create compelling 3D broadcast designs culminating in the production of a television newscast opening.
As an added bonus, attendees are eligible to win over $60,000 in door prizes that feature complimentary products from Adobe and MAXON, and from tour sponsors including: Artbeats, Cybermotion: Chris and Trish Meyer, Digital Anarchy, Gridiron Software, Intel, NVIDIA, Pixel Corps, NTI, Cyberlink, RE: Vision Effects, and Verbatim.
About Adobe Production Premium CS3
Adobe Production Premium CS3 is part of the Adobe Creative Suite family and is a complete and integrated post-production environment. Adobe Production Premium combines Adobe's world-class video, audio, and graphics software with the ground-breaking efficiency of Adobe Dynamic Link for unmatched integration and a highly efficient workflow.
About CINEMA 4D Widely regarded as the easiest to learn and use 3D application, CINEMA 4D has become a standard tool in the creation of 3D animation across a broad array of industries. Its open architecture, flexible toolset and ability to render straight out to most 2D applications, including After Effects, Final Cut, Shake, Combustion, etc., makes CINEMA 4D ideal for any pipeline. CINEMA 4D and BodyPaint 3D are also used in the creation of television programming, live theater, commercials, music videos, motion graphics show packages and website graphics, as well as medical and scientific visualizations. Programs and networks leveraging MAXON for motion graphics included Wheel of Fortune, Jeopardy, Comedy Central, ESPN, NFL Network, NBC, DirectTV, CBS NFL, Fox and others.
About MAXON Computer
MAXON Computer is the developer of professional 3D modeling, painting, animation and rendering solutions. Its award-winning Cinema 4D and BodyPaint 3D software products have been used extensively in the film, television, science, architecture, engineering and other industries. High profile projects that have relied on MAXON software solutions include The Golden Compass, Beowulf, all three Spider-Man films, Surf's Up, Fantastic Four: Rise of the Silver Surfer, all three Pirates of the Caribbean films, and the On-Air Packages for TMZ T.V., Comedy Central, Monday Night Football, Jeopardy, Wheel of Fortune, ESPN, NFL Network, NBC, DirecTV, CBS NFL, Fox and many more. MAXON has offices in Germany, USA, United Kingdom and Japan. MAXON products are available directly from the web site and its worldwide reseller channel. For additional information on MAXON
Adobe and Creative Suite are either registered trademarks or trademarks of Adobe Systems Incorporated in the United States and/or other countries. All other trademarks contained herein are the property of their respective owners.