3DSOM Pro 2.1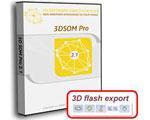 Creative Dimension Software Ltd are pleased to announce the release of 3DSOM Pro 2.1
Creative Dimension Software Ltd are pleased to announce the release of 3DSOM Pro 2.1, the next generation tool for creating and presenting 3D models from photographs. A key new feature of this software is the ability to publish 3D models in a unique Flash-based web format. The only requirement to view, grab, spin and zoom the models is the popular Adobe Flash Player 9 Plugin - already installed on the vast majority of PCs.

"With our new Flash 3D format, there are no longer any barriers for deploying engaging high-impact 3D content on the web", explains Adam Baumberg, Managing Director of the company. "We have tried to make the process as simple as possible, so anyone can create high quality 3D web pages without requiring any additional Flash authoring tools or programming skills."
The 3DSOM Pro system takes a number of photographs of a real object taken from different angles. The images are loaded into the software and 3DSOM Pro then constructs a high quality texture mapped model with very little user interaction. The software is being used by museums to present 3D online galleries as well as for product visualisation, retail design, medical research, teaching and other graphics and industrial CAD applications.
As well as the new Flash 3D web format the software can export models in industry standard 3D formats and also a powerful Java based web 3D presentation solution. Along with the usual bug fixes and performance improvements, this new release also includes a number of features aimed at the CAD community. For example, dense laser scanned geometry can be imported for automatic photo-based texturing and interactive mesh simplification. Geometry can also be accurately scaled based on a simple calibration measurement.
What's New in 3DSOM Pro 2.1
Version 2.1 of 3DSOM Pro is a major new release with numerous bug fixes and improvements. You can now import and export data in several new formats including our unique 3D Flash and Java based web formats.
Flash 3D export - this release includes a new streamed 3D web format based on the popular Adobe Flash Player 9. Software rendering using Flash's powerful AS3 scripting functions allows 3D models to be rendered interactively. The viewer file is small and compact and the models are highly compressed and streamed. See Flash 3D Export for details.
X3D, STL export - Two handy new export formats.
Support for hardware imaging rigs - fixed camera systems or computer controlled turntables are now supported. The rig is precalibrated by taking a set of photos with the 3DSOM calibration mat. The mat can then be removed and a further scans taken with the object to model. This allows more flexibility and easier masking as the mat need not be present in object shots.

Accurate scaled units - you can now enter the size of the mat by measuring the special "mat unit" marker. This allows 3DSOM Pro to export 3D models with accurate scale (in mm) or import models with millimetre units.
STL dense geometry import - STL models can now be imported (untextured) for texturing from photographs.
Improved support for large meshes - Meshes with up to 500K triangles can now be imported and efficiently decimated (with or without textures). Large meshes can also be more efficiently texture mapped from photographs.
Improved 3DS import - 3DSOM Pro now supports non-closed 3DS meshes for importing. 3DS models can then be export in 3DSOM Pro's unique web formats such as the Java and Flash formats.

About 3DSOM Pro:
3DSOM Pro (or 3D Software Object Modeller Pro) produced by Creative Dimension Software Ltd, is a high-end tool for automatically generating 3D models from photos of an object. The object is placed on a special calibration target with a backdrop and a number of photos taken from different directions. A fully textured 3D model is created with the majority of the process being fully automatic.