SVFlux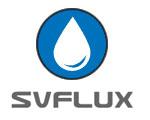 SoilVision announces SVFlux is the most powerful and stable finite element groundwater modeling software currently available
SVFlux is the most powerful and stable finite element groundwater modeling software currently available. The SVFlux software uses the powerful FlexPDE(tm) 1D / 2D / 3D solver which is highly automated. SVFlux allows you to spend your time solving your problem, not designing your mesh. With our automated solver and CAD front end, reductions in modeling time of over 70% are average. Groundwater models may be built as a series of surfaces and layers. Borehole or soil survey data may be used to build each groundwater model resulting in the possibility of extremely complex models. Our comprehensive documentation will get you modeling quickly!
Our software is currently being used by universities and consultants around the world. Mining companies in northern Canada trust SVFlux to model the water flow through tailings piles. Consultants trust SoilVision coupled with SVFlux for the geotechnical evaluation of the Seattle airport expansion. Geotechnical/geoenvironmental engineers, geological engineers, hydrogeologists, and soil scientists will realize a new level of modeling ease with SVFlux.
SVFlux is capable of performing steady-state or transient analysis. Soil properties used for analysis are a definition of the soil-water characteristic curve and either a saturated permeability or an unsaturated functional definition of permeability (hydraulic conductivity). Soil-water characteristic (soil moisture retention) curves and saturated or unsaturated hydraulic conductivities (permeabilities) may be determined in a laboratory or estimated using the SoilVision software.