Artlantis Render and Studio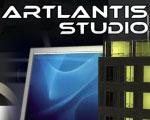 ARTLANTIS offers full radiosity and powerful control of 3D models
The ABVENT Group today announced the release of the latest version of Artlantis Render and Studio, rendering software dedicated to architects, designers and most 3D CAD users. The key new features enhance Artlantis' lighting, photo-realism, rendering quality, user-friendly interface, and creative possibilities.
"We kept everything that Artlantis is famous for its ease of use, intuitive interface and, above all, its powerful controls and we introduced new technologies that work for the user," stated Frederic Blanc, Artlantis graphic and design product manager at ABVENT. "Artlantis is unique among rendering software packages in the way it integrates radiosity into a live 3D preview. The 3D model is displayed in real-time using high quality radiosity lighting effects, maintaining an appearance consistent with the final rendering." With this new concept of Full radiosity, Artlantis improves all lighting conditions, and offers Real sky simulation and Automatic light adjustment. Artlantis' new options include Integrated image post-processing, enabling users to modify the effects of a rendered image without additional image editing software. Thanks to a new Shader creator, users can now create their own shaders and access a Rich Media collection of shaders and 3D objects. Artlantis family introduces 5 new media volumes: 3D Animated People, 2D Bilboard People, Cars, Stones and Marble Floor.

About Artlantis
Artlantis is a unique 3D rendering application ideal for quickly and easily creating very high-quality real-time still images and animations. Ease of use, an intuitive interface and powerful controls have made Artlantis must-have rendering software for over 75 000 architecture, design and urban design professionals in 80 countries.