NVIDIA REDEFINES NOTEBOOK WORKSTATION MARKET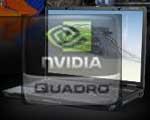 New Quadro® FX 3600M Graphics Bring Advanced Visualization to Professionals
New Quadro® FX 3600M Graphics Bring Advanced Visualization to Professionals on the Go with Improved Graphics, CUDA Technology, and GPU Computing
NVIDIA Corporation (Nasdaq: NVDA), the world leader in visual computing technologies, today introduced the NVIDIA Quadro® FX 3600M professional GPU for notebook and laptop workstations. This new graphics solution defines a new level of graphics performance and advanced visual computing for designers, engineers, and scientists who demand the functionality of a desktop workstation on a notebook platform.
Design professionals, who rely on the high-performance and advanced features of NVIDIA Quadro graphics in a desktop workstation, can also experience this same level of performance in a notebook workstation, said Jeff Brown, general manager, Professional Solutions, NVIDIA.With the new NVIDIA Quadro FX 3600M GPU, the notebook becomes a powerful workstation, allowing professionals to work anywhere, anytime without sacrificing graphics quality or performance.
The HP Compaq 8710w mobile workstation, with the new NVIDIA Quadro FX 3600M GPU, is our most powerful mobile workstation to date,said Dan Forlenza, vice president, Business Notebooks, HP.The implementation of high-performance features such as CUDA and Shader Model 4.0 technology on the mobile GPU, gives professionals the workstation-caliber processing and graphics performance they need to go wherever their work takes them.
These new platforms deliver a uniform feature set, which include Shader Model 4.0, CUDA" technology and GPU computing for visualization. Professionals working with large datasets, models, and images in markets such as computer-aided design (CAD), digital content creation (DCC), imaging, computing, and the sciences, are now unchained from their desktop workstations with notebook solutions that feature the latest Quadro professional graphics architecture.
Engineered to deliver high performance and visualization of extensive datasets with extremely high image quality in an ISV-certified, notebook platform, the Quadro FX 3600M is available as a fully qualified MXM v2.1A type-III form factor mobile workstation graphics board with : * 512 MB G-DDR3 memory * 256-bit memory interface * 51.2 GBps graphic memory bandwidth * OpenGL 2.1, Shader Model 4.0, and DirectX 10 * PowerMizer" adaptive power management tools.
The complete line of NVIDIA Quadro FX notebook solutions are widely available through leading OEMs such as HP, Dell, Lenovo, Fujitsu Japan, and FSC as well as workstation system integrators. For more information about the entire series of NVIDIA professional Quadro solutions.
NVIDIA Corporation
NVIDIA is the world leader in visual computing technologies and the inventor of the GPU, a high-performance processor which generates breathtaking, interactive graphics on workstations, personal computers, game consoles, and mobile devices. NVIDIA serves the entertainment and consumer market with its GeForce® products, the professional design and visualization market with its Quadro® products, and the high-performance computing market with its Tesla" products. NVIDIA is headquartered in Santa Clara, Calif. and has offices throughout Asia, Europe, and the Americas.
Certain statements in this release including, but not limited to, statements as to: the features, uses, benefits, and performance of NVIDIA Quadro FX 3600 professional GPU, mobile workstations with the Quadro FX 3600 GPU, Power Mizer and CUDA; and the availability of NVIDIA Quadro FX mobile solutions are forward-looking statements that are subject to risks and uncertainties that could cause results to be materially different than expectations. Important factors that could cause actual results to differ materially include: our reliance on third-parties to manufacture, assemble, package and test our products; issues associated with design and manufacturing of products; loss of performance when our products are integrated into mobile workstation systems; manufacturing or software defects; the impact of technological development and competition; development of more effective or efficient graphics processing units; changes in industry standards and interfaces as well as other factors detailed from time to time in the reports NVIDIA files with the Securities and Exchange Commission including its Form 10-Q for the period ended October 28, 2007. Copies of reports filed with the SEC are posted on our website and are available from NVIDIA without charge. These forward-looking statements are not guarantees of future performance and speak only as of the date hereof, and, except as required by law, NVIDIA disclaims any obligation to update these forward-looking statements to reflect future events or circumstances.
Copyright © 2008 NVIDIA Corporation. All rights reserved. NVIDIA, CUDA, NVIDIA Quadro, Quadro and PowerMizer are registered trademarks and/or trademarks of NVIDIA Corporation in the United States and other countries. All other company and/or product names may be trade names, trademarks and/or registered trademarks of the respective owners with which they are associated. Features, pricing, availability, and specifications are subject to change without notice.