Virtual Revolution Continues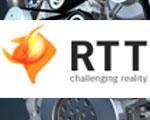 RTT and Their Professional 3D Visualization Solutions Are Leading the Industry
Record attendance at Viennas Hofburg venue for the 9th RTT Conference event highlight of the year for the visualization industry and design scene.
Virtual Revolution Continues RTT and Their Professional 3D Visualization Solutions Are Leading the Industry
More than 350 visitors from over 20 countries are witnesses to the fact: Virtual Reality is well established in the automotive, aerospace, consumer goods and furniture industries. It is also attracting attention in many more sectors. For leading brands such as General Motors, Ferrari, Adidas, Sony Ericsson and the Japanese furniture manufacturer Uchida Yoko, high-end visualization technology has become an essential tool for decision making and innovation. Product development cycles and sales activities are inconceivable without it. Realtime Technology AG (RTT AG) hosted the event against the traditional backdrop of Vienna's Hofburg venue on 10 and 11 April 2008. The RTT Conference has become the annual highlight for the 3D visualization industry and design scene.
The guest list for the 9th RTT Conference reads like a Whos Who of the industry: General Motors, Airbus, Adidas, Audi, BMW, Toyota, Porsche, Siemens and Volkswagen. Decision makers active in the areas of development, construction, design, marketing and sales were in Vienna to exchange information about the latest trends and developments in professional high-end visualization. This years breathtaking location was Viennas Hofburg venue the former imperial residence.
The RTT Conference continues to grow and is becoming more and more international, said Ludwig A. Fuchs, co-founder and member of the board at RTT AG. This is further proof of our remarkably positive business development. Increasingly more companies are opting for our creative ideas and solutions they reap the rewards of innovative product development and completely new marketing techniques.
Stunning virtual images
The two-day programme included presentations from top speakers and a series of discussions and workshops. Shigeyuki Kazama and Michel Sabouné, design gurus at Sony Ericssons Creative Design Center, shared their thoughts on the challenges of global design processes. Shinichi Mukai, President and CEO of the Japanese furniture manufacturer Uchida Yoko, offered a fascinating glimpse into the booming Asian designer scene and the use of realtime visualization technologies during integrated office design processes. Philip Courtenay, head apparel & accessories operations at Adidas, discussed the ways that 3D has revolutionized the industry for sports products. Joanne Marshall, Web Marketing Manager at Ferrari, introduced participants to new approaches in the field of digital customer dialogue. In addition, guest of honour and renowned Austrian quantum physicist Professor Anton Zeilinger spoke on new developments in the research of future technologies.
RTT AG provided an extensive programme of complementary and evening activities to accompany the conference. Nostalgia was in the air as visitors rode a traditional tram through Vienna along the famous Ringstraße Boulevard. The event concluded in style with an enjoyable evening at the Heurigen Passauerhof restaurant in Grinzing, a wine-drinking locale special to Vienna, where guests were able to sample numerous Viennese delicacies and experience Gemütlichkeit.
World premiere: RTT DeltaGen 8.0 and RTT PictureBook 4.0
RTT AG unleashes a new dimension in realtime visualization with new software versions RTT DeltaGen 8.0 and RTT PictureBook 4.0 (previously RTT Portal). Visitors to the RTT Conference received an exclusive introduction to the forthcoming features. The new software solutions deliver outstanding levels of performance and user experience. Further details are to follow shortly in a separate press release. The new versions will be available in the first half of the year.
Virtual researchers map the future RTT Conference honours projects from new talent
For the second time, the RTT Conference honoured the winners of the international research competition RTT Emerging Technology Contest 2008. The three winning projects were:
The National University of Singapore for its project City Planning Space a system that utilizes 2D and 3D interfaces to simplify urban planning and visualize planning results in 3D and real time.
The Hagenberg campus of the Upper Austria University of Applied Sciences for their project Flux a touch-sensitive surface that can be used as an interactive table or a digital whiteboard.
The Technical University of Munich for their project Realtime Environment Sensing for Location Unbound 3D View Rendering.
The winners were able to introduce their projects during a presentation to a large audience in addition to exhibiting them in an accompanying high-tech exhibition.
We would be happy to provide you with a press CD containing conference documents and high resolution images for printing purposes.