Skuuma Furniture Design Contest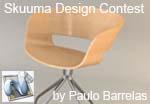 Luxology is pleased to be the Platinum Sponsor of the Skuuma Design Competition.

SKUUMA Soft surface design competition 2008

SKUUMA creates opportunities for design talent
With SKUUMA and our partners in design, we wish to give design talent from all over the world equal opportunities to see their design realized and added to the SKUUMA home and office design collection. It's the only label that creates its collection through global design competitions. Our jury, consisting of top-notch designers, experts in the field of design, relations in business and industrial experts, select the best designs and turn them into successful products.

All designers receive royalties over their winning design. This will give them a financial and creative head start in the notoriously exclusive world of design. Focusing on carefully selected themes, design briefs, with input of experts as well as consumers, ensure quality and market value.
Participants are put to the test both creatively and technically with each new competition. Because of the large number of participants and a jury of renowned designers, we guarantee unique and innovative design products of great quality.

Luxology/Modo

Our artist friendly software, modo, is ideal for creating your furniture design right on your Mac or PC. With modo, you model or sculpt your idea into whatever form you want — from a modern beveled look to a shocking "melted" look.

You can apply textures to introduce stitching, grooves, or other surface treatments. You can color your entire piece or add materials like metal or wood to adjust the look of each cushion or leg as you see fit.