DAZ Studio 2.1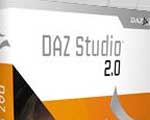 DAZ 3D Launches New Version of Free 3D Posing and Animation Software, DAZ Studio 2.1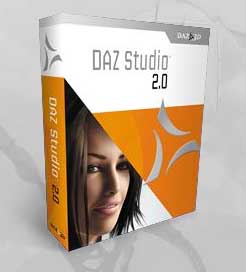 DAZ 3D Continues Tradition of Providing High-quality Tools for Professionals and Hobbyists Alike by Offering New Features Such as Drag and Drop, Levels of Detail, Sub Division, QuickStart and More
Its easy to use. Best of all, its free. The latest release of DAZ Studio hits the market today, providing the industry with a simplified, enhanced version of this premier feature-rich 3D art and animation package.
From DAZ 3D, a leading developer of professional quality 3D software and models, DAZ Studio 2.1 offers the easiest way to quickly create high-quality digital images and characters for use in games and virtual worlds, multimedia and illustration applications. DAZ Studio 2.1 offers extensive pre-configured 3D scenes, poseable characters and accessories to help users get started.
DAZ Studio 2.1 is an ideal solution for professional 3D artists and hobbyists alike. Professional designers and illustrators can render compelling scenery, while gamers may effortlessly modify their own 3D avatars and characters exportable via the COLLADA file format. Families may additionally create scrapbooks and photography with integrated 3D imagery. With DAZ Studio 2.1, users work with virtual objects to create images of any genre, ranging from medieval to contemporary, proving that artists of all backgrounds can experience the power of 3D.
DAZ Studio 2.1 is a real milestone in our ongoing commitment to provide high-quality, yet cost-effective, software and content that easily allows any level of artist to create breathtaking art, said Dan Farr, president of DAZ 3D. In addition to professional enhancements such as the Sub Division and Drag and Drop features, DAZ Studio 2.1 also offers a simplified QuickStart tutorial feature for 3D novices. Not only do these features help us push the bar to meet the expanding needs of our customers, but we are also introducing the world of 3D to new audiences, from first time artists to transitioning 2D professionals.
DAZ Studio 2.1 boasts many robust features, including a full-color OpenGL Preview, integration with the powerful 3Delight® Render Engine (compliant with Pixars RenderMan®) and Fast-Time" Rendering via the users graphic card hardware.

Additional features include:
Drag & Drop:
Automatically fits clothing or hair to 3D figures, eliminating the need for manual fitting. This feature also allows content to be added to a specific area within any scene, rather than just the default location.

QuickStart:
With a step-by-step user interface, pre-loaded DAZ 3D models, scenes and morphs, and access to an extensive online library of high-quality 3D content, QuickStart users gain the fastest and easiest introduction to the world of 3D.

Levels of Detail (LOD):
Allows the user to control the amount of polygonal mesh detail, while retaining universal compatibility of morphs, textures and other accessories. This feature is ideal for importing content into gaming software and virtual worlds.

Sub Division Geometry (Sub D):
Users can take advantage of content created using Sub D to allow more efficient meshes while preserving high-resolution in 3D avatars and figures.

Multiple UV:
Provides easy application of maps optimized for different characters or circumstances, allowing versatility, flexibility and connectivity. Multiple UV also allows creation of avatars that will work in all virtual world applications.

Content Manager:
With an intuitive and powerful database system, users can customize the categorization of their 3D content as they wish without altering files on their hard drives.

Enhanced UI for Maximum Workspace:
The ability to have interface panels and tabs docked however the user chooses, and be collapsed automatically when not in use allows users to maximize their workspace and not feel cluttered by window upon window of features and control points.

With these new features, DAZ Studio 2.1 has moved a step beyond Poser and other mainstream, more expensive 3D applications, said M. Milam (Rosetta), a DAZ 3D published artist.DAZ Studio 2.1 is great and easy to use.