NAB2008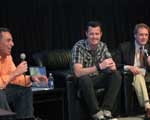 NAB2008: The Return of Stereoscopic 3-D
Avid and Apple may have been conspicuously absent from NAB earlier this month, and attendance may have dipped from 111,028 to 105,259, but the 2008 edition of the Las Vegas confab was a lot more interesting to cover in many ways.

First, there were a few exciting new tools introduced that generated a lot of buzz, including eyeon Software's Generation, a new collaboration app for conforming, editing, compositing, annotation, versioning and render management, and the HP DreamColor Technology computer display, which was previewed during a keynote address featuring DreamWorks Animation CEO Jeffrey Katzenberg (via video feed), DreamWorks Animation Chairman Roger Enrico and HP's EVP Todd Bradley.
Touting an open architecture, Generation is designed to ease vfx workflow collaboration between supervisors and production leads and allows senior artists to share in the process as well. Fully compatible with eyeon's products, Fusion, Rotation and Vision, Generation provides the simultaneous play of multiple versions while experimenting with multiple cuts to compare various projects. Shot refinements, from storyboard through to animatics to finished shots, are all tracked and versioned visually with realtime playback and commenting with workstation/laptops. Generation will be available this summer.
The HP DreamColor display "provides accurate, predictable color and a simple color management process to assure vision-to-production color consistency in a widescreen liquid crystal display (LCD). The display generates the industry's first combination of true 30-bit color - enabling a range of 1 billion colors -- in an LED-backlit LCD at a fraction of the cost of most high-end, studio-quality LCD displays.
"For decades, storytellers have struggled to manage color in an accurate and consistent manner," said Katzenberg. "Quite simply, when we make a movie about a big, green ogre, our concern is that our ogre is the same color of green throughout the film. HP has truly changed the game with its new display, giving DreamWorks Animation full visual fidelity across the board for the first time." More details about DreamColor to come…
Plus, there was the usual excitement surrounding new digital cameras, including Sony's professional F35 and smaller X3 as well as the new RED 5K Epic, 4K Red Ray and 3K Scarlett.
Speaking of which, Boxx Technologies offered redBoxx, a new solution that allows film directors, colorists and vfx experts to view 4K footage shot with the RED ONE digital cinema camera at full quality 2K resolution in realtime with full debayering, without having to use expensive and time consuming scanning and transcoding. redBoxx is based on a specially engineered version of the 3DBoxx workstation and includes Assimilate's new SCRATCH CINE software package for Digital Intermediate work. redBoxx is designed to work only with REDCODE .R3D files.
The redBoxx arguably completes the puzzle of modern digital workflows by allowing filmmakers to create highly polished results faster, easier and at lower cost than current standard DI technology can offer.

In addition, the Albuquerque-based Cinnafilm unveiled the HD 1 realtime film look system, a potential breakthrough in applying a rich film look to nearly any digital video source while maintaining visual integrity. Still in development, the HD 1is an advanced vfx solution utilizing a patent-pending GPU parallel processing engine that streamlines transfer and rendering procedures in a quick and cost-efficient manner. The brainchild of Cinnafilm Founder Lance Maurer, he has enlisted the help of Los Alamos National Labs in the engineering of the HD 1.
Most of the interest and excitement at NAB, however, concerned the return of stereoscopic 3-D and its potential industry boost, despite a note of caution issued by NATO President John Fithian about a looming "train wreck" if studios and theater owners don't come to a quick settlement over digital cinema fees, which could derail agreements to install 22,000 digital 3-D screens for next year.
Nevertheless, NAB introduced a new Content Theater in the central hall devoted to panel discussions about 3-D and other topics, including globalizing Bollywood, how CG technologies meet classic techniques for character animation (presented in association with the VES), case studies about Horton Hears a Who! and Pushing Daisies and broadband media workflow.
But a whole day was devoted to lively discussions about all things stereoscopic, including one about the art of 3-D. Panelists for this one included Peter Anderson, 3-D DP and vfx supervisor (U2 3D); Eric Brevig, vfx supervisor and director of Journey to the Center of the Earth 3D; Phil McNally, global stereoscopic supervisor, DreamWorks Animation; Vince Pace, CEO, Pace and 2nd unit director of photography on Avatar; Rick Rothschild, SVP, Walt Disney Imagineering; and Sean Phillips, DP, vfx supervisor and director of Sea Monsters.
Digital cinema and improved glasses have made the stereoscopic experience more comfortable and immersive. Learning how to compose shots while avoiding eyestrain during the viewing experience remain key, understanding how to shoot and edit are also vital and utilizing an efficient workflow is still underway.