Frantic VFX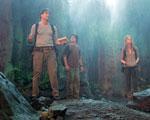 Frantic Films Integrates with the Prime Focus Family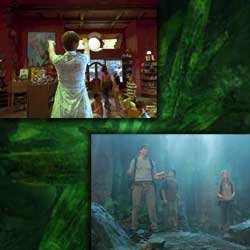 The acquisition of Frantic Films VFX by the Indian conglomerate Prime Focus Group along with the post-production facility, Post Logic Studios, was big news this past November. The acquisition added to Prime Focus' six vfx and post-production houses in India and to the four that it owns in the UK.
As a follow-up, VFXWorld takes a look at what the acquisition of Frantic Films has meant to both companies and how the integration of the various corporate cultures is going.
Prime Focus Founder and CEO, Namit Malhotra, explains why his company decided to acquire Frantic Films. "We had been looking to acquire a North American vfx company for quite some time and Frantic Films VFX presented some really unique differentiators.
"First of all, Frantic VFX is one of the few vfx companies, which in addition to having a strong presence in Hollywood, also has facilities in Vancouver and is accustomed to having their talent collaborate across multiple locations. Their strong multi-locational pipeline was a natural fit for Prime Focus Group as we have several facilities across the UK and India as well.
"Secondly, Frantic is known for its R&D and proprietary software, which has not only delivered cutting edge sequences, but has created custom vfx solution for CG water and fire simulation and effects in stereo 3-D. Their custom technology will now benefit all of the Prime Focus Group companies.
Frantic has experience working with Hollywood's top studios, on some of the most notable visual effects films, and has a very satisfied client base." Meanwhile, Frantic Film's Co-Founder Chris Bond adds, "A lot of facilities are islands unto themselves. They exist in one location within one building. Our facility, when (Prime Focus) met with us, had an Australian office in operation, a Winnipeg office, which was our original location, Vancouver and
Los Angeles. So, not only did we have multiple offices that we communicated between, but we had a pipeline to move the work around between the facilities. On a shot in Superman Returns, for example, portions of it were done in Australian, Vancouver, Winnipeg and Los Angeles. I think that really excited them because their intention, of course, is to utilize the besttalent wherever it exists in the world."
As for Malhotra's second point, Bond discusses Frantic Film's R&D and how its proprietary software will blend in with the Prime Focus community. "We're working on a fluid dynamics software called Flood, and the training material and the people to do the training are going over to India this week to train the Indian side on fluid simulation. It's something that is going to benefit the clients. If we're going to do a thousand shots of water simulation or oceans on a movie, the cost would be enormous to do that in Los Angeles or Canada. So, with the Indian side, we get the benefit of cost on something that is proprietary technology that we own. So there are huge benefits in areas like that." In addition, at the end of last year, Frantic Films finished work on Journey to the Center of the Earth 3D for New Line/Walden Media. The first live-action feature to be shot entirely in digital 3-D, Journey opens July 11. "It was our first stereo project," Bond states, "and we created a stereo pipeline for it… We did this whole ocean sequence involving dinosaurs. It was really amazing. There are a couple of (stereoscopic) conferences coming up that highlight the work."
Their R&D is not limited to visual effects software, as Frantic Films has also developed production management tools. "We wrote a software called Project Flow, which allows supervisors to review work with artists even if the artists aren't there," Bond observes. "Everything is written in a software called Deadline, which is a network rendering tool or network frame management tool. We've got things in there like remote farm rendering. So, we can have a render farm in Canada, and we can launch a job out of Los Angeles and render on the farm."
The firm's R&D has even explored the problem of transmitting dailies. "We have a daily system that allows every office to see dailies and the content is synced. So, if there's a project we're working on between different offices, historically Winnipeg, Los Angeles, Vancouver, anybody who is involved in the project and has access obviously could go to their daily system and see the dailies produced by somebody else in another part of the company.
"So, we're bringing those things to the rest of the locations (within the Prime Focus universe). In very short order, we should be able to be in a position where we're acting as one unit instead of a diverse set of companies. We'll all have our own local markets, our own clients. It's not like things will change. It's not like a client we've worked with for five years is suddenly going to have their work be done by somebody they don't know in another country. We're only doing things if they make sense and are comfortable for the clients."
Malhotra addresses what he believes are the challenges and benefits that result from this type of acquisition. "The greatest challenges are always around integration of corporate cultures and workflows, though we are working through those at a rapid pace. In fact, Frantic's teams and our teams across the UK and India are already standardized on many similar tools so it looks like we'll be benefiting from cross facility collaborations sooner rather than later." Any other benefits regarding integrated services?
"Integrated services have always been central to our business model. Prime Focus' offering to filmmakers in Hollywood provides end-to-end post-production services beginning with dailies through to editorial, digital intermediate and final project deliverables via Post Logic, along with high-end visual effects capabilities under the same roof with Frantic Films VFX.
"Multi-locational support provides unparalleled scalability, along with the ability to tap top post and visual effects talent where it best suits your project and budget. The visual effects process is a highly collaborative one, where large vfx shows often split work across multiple facilities to keep a project on track. With our business approach, and highly capable facilities around the globe, we are positioned to offer Hollywood studios and filmmakers an ideal scenario for facilitating their vfx and post-production needs."
Bond elaborates on some of the issues inherent in the integration of diverse corporate cultures. "When you have five or six different companies and cultures meshing together, you always get in the situation where everybody has their own idea of what makes sense. They have their own process, their own pipeline. Not everybody uses the same software, for example. There's always the debate of do we change from this 3D application to this one or do we move from this to that. There are all sorts of issues. I have my sales rep for a product, and they have theirs. Which one do we use?" In dealing with these issues, Bond has high praise for Malhotra's leadership. "The benefit that I found in Namit's leadership is that he listens to everybody. He doesn't just make brash decisions or go off half-cocked. He makes a really consistent effort to listen to everybody and take all those ideas into account before he makes a decision on something."
Bond also believes that integrating the various companies is Malhotra's strong point. "In other companies that I've seen that have been acquired, they kind of just ran as 15 different companies. They do things the way they've done them for 10 years. In this company, it seems like everybody is ready for change, and everybody is ready for integration, and everybody seems to benefit and (Prime Focus) didn't acquire companies that they didn't see how they could work together. They acquired us when we were already working across different cultures and different time zones and so forth. So, we're very open to that. We see the necessity and the benefits." Of course, the successful integration of the various companies will depend heavily on the infrastructure and logistics that are employed and how well the various companies can talk to one another. Malhotra has already taken to task both of these aspects.
"We are in process of connecting all of our locations around the world via secured high-speed fiber networks. The work processes and communication structures across locations are also getting standardized. Looking forward, we will continue to focus on streamlining various processes in our production pipelines to facilitate more efficient collaboration."
Production pipelines are one area where Frantic Films involvement will be extremely beneficial to the Prime Focus community, Bond believes. "We created a pipeline department to work on a worldwide integrated pipeline for data movement to simply process how to do certain tasks.
"Essentially, our pipeline department looks at processes, and we break them down in an analytical way. Then we allow the creatives to fit within that process. For example, on a movie that we're currently working on, we discuss with the different companies, who's got the capacity to do certain kinds of work. And then we do the work where it makes the most sense. So, if the
client requires certain tax credits or certain cost benefits or certain talent that work is done with those people." Naturally, the analysis of all these processes must generate a great deal of data that needs to be handled as efficiently as possible. "Frantic Films has an I.O. department," Bond explains, "and the film I.O. department moves film back and forth in the background for projects we have. So, if we need to do some shots in India for something that needs to be done tomorrow morning or out of London, that data gets moved." But as Bond points out, everything begins and ends with the pipeline department. "There's a lot of different technology and a lot of different
processes, but it's the pipeline department that looks at those things and decides what needs to happen. Do we need to teleconference? Do we need to fly somebody to an office because that would make the most sense or be the most efficient? There's a constant evaluation on a per project basis."
Malhotra touches on the physical changes that have taken place at Frantic Films and how they have benefited. "Since the acquisition, Frantic Films VFX moved their LA office to Hollywood, and are now co-located with Post Logic Studios (another Prime Focus Group company), which benefits both facilities and their clients with an extended service slate and resources.
"Frantic VFX now benefits from the high-end color science, 4K scanning and DI capabilities of Post Logic. Additionally, Post Logic now benefits from the strong effects, R&D and pipeline capabilities of Frantic VFX.
"Additionally, Frantic has expanded operations in Hollywood by setting up a full-scale matte painting department headed by [artist] Ken Nakada. In the future, we look forward to expanding operations across all our facilities." Besides aligning with Post Logic and moving into their 55,000 square-foot facility, being acquired by Prime Focus Group gave Frantic Films the financial backing to also expand creatively.
"At Frantic Films we really didn't have the backing to do some of the things we wanted to do," Bond admits. "We brought in Ken Nakada, because I worked with him in the past on some projects. The idea is that we're going to be doing a lot of virtual environments, set extensions, matte painting work and some art department conceptual things through that department. "It's one of those things that you have to find the right talent when it shows up, not when it aligns with a project necessarily. Matte painters and matte artists are generally fairly rare positions. It wasn't something we could finance before. But it was something that was in the scope of present work within the Prime Focus family in a lot of different projects. So, they really thought that it would be beneficial and allowed us to build this department."
Nakada discusses the challenges and benefits of starting up and integrating the new matte division. "The main challenges are recruiting talent and building a pipeline. Environments will encompass different elements to varying degrees. We will always have matte painting as a main resource for environment building.
"Although many companies do matte paintings, there is truly not a large pool of experienced and properly trained matte painters. When trying to build photoreal environments that need to cut seamlessly with production footage, the number of capable matte painters drops dramatically. "The recruiting must be complimented with a good training program. And this is what we are doing at Frantic. We are looking for experienced photo-real matte painters, while concurrently building a place to grow talent.
The latter takes time and involves a department that includes art levels from apprenticeships to junior matte painters to senior matte painters." Nakada also discusses the additional elements and skill sets that are needed within the department to round out 3D world building. "We have to have water simulation, volumetric cloud building, tree/plant pipelines, cityscape pipelines, atmospheric effects, smoke/fire elements, rain/snow simulation and other physical phenomena that naturally occur within a scene. Also, there are the not-so-natural effects that may be requested, which is common in sci-fi/horror/space related features. And lastly, once you build an environment, you have to populate it. These can range from people, vehicles, bugs and animals. Luckily, many of these pipelines exist at Frantic VFX. I am trying to bring in the main resource, matte painting, and round out the other needed elements."
Since getting off the ground a few months ago, the integration of the new digital mattes and concepts department at Frantic Films has gone exceptionally well. "I am a recent hire, so it took a little time for me to understand how work flows between Los Angeles, Winnipeg and Vancouver," Nakada adds. "But Frantic has a tremendous infrastructure that makes the daily vfx routines transparent. I have worked with several companies that have multiple, long-distance offices with varying levels of communication effectiveness. I have found it remarkable how robust the intra-company communication is which was a conceptual adjustment."
Fortunately, Nakada joined Frantic at the same time the company and its branches were being acquired. So, the framework and infrastructure was already in place to blend all the parts into a cohesive whole. "A whole department (pipeline) exists to ensure and continue to build the necessary pipes between countries. Now that I have adjusted to the LA/Canadian pipeline, the collaboration with India does not seem so different. I believe that our pipeline/infrastructure will extend well to London as well as the other Indian offices."
Frantic Films has recently begun work with Prime Focus India on an upcoming sci-fi feature film. Nakada says the project is going very well. "We are all new to each other and are currently building the working relationship. The existing infrastructure helped work out the technical and temporal aspects of efficient collaboration. It will take a little time to have it feel well oiled and develop the trust in creating art in a timely manner. But this is a great example of how well our system is working."
Up to this point, Prime Focus India has placed the majority of the work with Frantic's Winnipeg office. "The facility supervisor is there, and they coordinate with our digital mattes and concepts department in Los Angeles for art evaluation and matte painting execution," Nakada continues. "The artwork gets funneled through the Winnipeg office which handles the communication with Prime Focus India."
Nakada briefly discusses some of the other projects in his department. "Currently in our pipeline is The Great Observer and Bolden. These are both period pieces set in Louisiana in the early 1900s. Photography from this time period exists but cannot be used directly as they are very poor quality. The production footage filmed on set stages and on location has to be extended, periodized and often times rebuilt.
"We invest a lot of time researching the world we are trying to re-create. We look at vintage photography for glimpses of the business types, architectural detail and aesthetics of the time and place. For example, general stores, brothels, hotels, residential housing, churches, parks and smaller details (carriages, buggies, transport containers) are painted to create our environment.
As for specific visual effects work, Bond mentions that Frantic Films will be doing some of the effects for Fox's Dragonball, which is still shooting and set for release April 3, 2009. In addition, the company has five other projects they are ready to work on, but could not discuss.
Finally, how would Prime Focus' new agreement with Warner Bros. Imaging affect Frantic Films? "We have a long history with Warner Bros.," Bond says. "They are one of our personal clients at Frantic Films, and I was pretty excited to see the announcement that there's a relationship with them on the India side as well. It doesn't affect North America per se, but would just reinforce the relationship that we already have (with Warner Bros.)."
J. Paul Peszko is a freelance writer and screenwriter living in Los Angeles. He writes various features and reviews, as well as short fiction. He has a feature comedy in development and has just completed his second novel. When he isn't writing, he teaches communications courses.