Mimic Pro Facial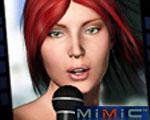 DAZ 3D Announces Mimic Pro Facial Animation Software for Carrara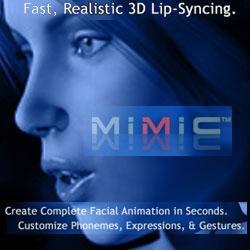 For the First Time, Carrara Users Now Have Direct Access to Mimics Advanced Environment for Easily Creating and Editing Facial Animation Sequences
Facial animation has never been simpler as DAZ 3D, a leading developer of professional quality 3D models and software, today announced the immediate availability of Mimic Pro for Carrara, a plug-in enabling seamless lip-synching, sound analysis and speech animation simulations directly within
Carrara 6.2. Mimic Pro for Carrara provides an advanced environment for quickly creating facial animation sequences, such as winks,nods and smiles, allowing 3D characters to effortlessly obtain a greater level of expression.Combining Carraras high-end tool sets with Mimic Pro allows 3D artists access to an unprecedented array of tools for exploring new dimensions of creativity and adding personality to their 3D creations,said Dan Farr,president of DAZ 3D.The addition of Mimic Pro really completes Carraras toolset. Now, Carrara truly is the all-in-one 3D solution for digital content creators. Similar to its compatibility with NewTeks Lightwave and Smith Micros Poser,
Mimic Pro for Carrara animates any 3D figure utilizing existing audio files in any language, or personalized speech files created using Mimics simple recording studio. Mimic's Talkback" engine saves hours of production time, allowing users of any skill level more time to make their characters come to life at the click of a button. Mimic Pros added compatibility with Carrara now offers artists additional features including multiple figure support, complete integration with NLA animation in Carrara and lip-synching capability for models created using Carrara 6.2.
Product Overview
Mimic Pro provides an advanced environment for easily creating and editing facial animation sequences. Take existing WAV audio files of any language and let Mimic animate your figure for you. Or, record your own speech file within Mimic's simple recording studio via a microphone connected to your computer.
With the ability to add in expressions such as winks, nods, and smiles, your figures can easily become as expressive as your imagination allows.By creating the facial animation for you, Mimic's Talkback™ engine will save you hours of production time, allowing you to focus on other areas of your animation projects. Focus your energy on the nuances within your animation and make your characters come alive with real-life mannerisms and body language. The best part is that with the help of Mimic, you don't have to a be animation master in order to quickly create convincing facial animation.Mimic is available for use as a plugin with NewTek's LightWave (version 7.5 or higher) or as a plugin for Curiouslabs' Poser (version 3 or higher).

Pricing and Availability
The full version of Mimic Pro for Carrara is available in both Macintosh and Windows formats and is priced at $199. Mimic Pro for Carrara is compatible with Carrara version 6.2. Current owners of Carrara 6 may download a free upgrade, while new users may purchase Carrara 6, priced at $249 MSRP, and Carrara 6 Pro for $549 MSRP, with promotional discounts available for a limited time.
About DAZ 3D™
Founded in 2000, DAZ 3D, a privately-held company located in Draper, Utah, is a market leader in 3D software and digital content creation. The company's library of characters and accessories is renowned for its high-quality, versatile and compatible 3D content. DAZ 3D also hosts the popular Artzone.com, a social marketplace for sharing art and exchanging ideas.