Exaggerated Facial Modeling

Digital-Tutors Announces the Release of Exaggerated Facial Modeling for Maya® and ZBrush® Artists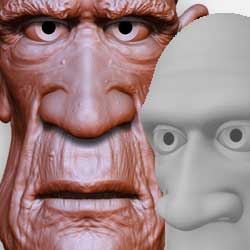 Interactive training provides artists with a production-based guide to character creation, look development, and organic modeling and sculpting techniques for use in film and games.
For Immediate Release
Digital-Tutors, an Autodesk® Authorized Publisher and leader in video-based training, today announced 'Exaggerated Facial Modeling in Maya and ZBrush' - the latest release in a growing library of interactive training for emerging digital artists using Maya, the award-winning 3D modeling, animation, effects, and rendering solution, and ZBrush 3.1, the integrated modeling, texturing, and illustration environment developed by Pixologic®. 'Exaggerated Facial Modeling in Maya and ZBrush' contains over four hours of project-based training for artists learning character creation, strategically detailing and sculpting, and techniques for creating clean, animation-ready topology using Maya and ZBrush. "There are numerous ways to model exaggerated facial characteristics, but making sure the geometry deforms properly and is suitable for animation can be a bit difficult for most," said Kyle Green, Director of Curriculum Development at Digital-Tutors. "With 'Exaggerated Facial Modeling in Maya and ZBrush' artists are given a step-by-step guide to creating a male bust with exaggerated features, adding details and irregularities, and all the while keeping clean and deformable geometry in mind," added Green.
Exaggerated Facial Modeling in Maya and ZBrush
Popular highlights from 'Exaggerated Facial Modeling in Maya and ZBrush' include: modeling exaggerated features, using reference art, building deformable topology, building initial edge-flow, extruding geometry along curves, bridging geometry, modeling eyes, modeling symmetrically, building large wrinkles, modeling ears, adding mouth interior, connecting edges, importing/exporting geometry, assembling Subtools in ZBrush, filling portions of Subtools with color, modifying head with Move Brush, sub-dividing geometry, sculpting facial features, adding small wrinkles, adding detail with alpha maps and strokes, creating a UV layout, integrating UV changes into ZBrush sculpt, creating normal maps in ZBrush, applying and viewing normal maps in Maya, and additional lessons developed to teach artists exaggerated facial modeling techniques in Maya and ZBrush.