CINEMA 4D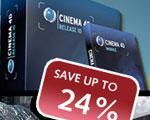 Maxon to Showcase Cinema 4Ds Powerful Motion Graphics Capabilities at Promax / BDA 2008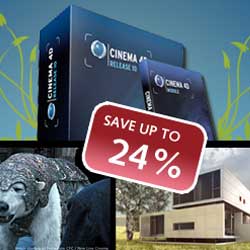 Motion Graphics Artists Around the World Rely On CINEMA 4Ds MoGraph Module to Create Award-Winning Content for Broadcast Industry Giants MAXON Computer invites members of the press and all other Promax|BDA 2008 attendees to stop by the MAXON booth, #10 in the Networking Village, to see the latest versions of the companys professional 3D modeling, painting, animation and rendering solutions. MAXONs flagship software solution, CINEMA 4D, one of the fastest growing and most widely used 3D products for digital content creation, is used by artists around the world to create compelling motion graphics for some of the broadcast industrys most widely recognized entities, including The Weather Channel, MTV, CMT, Comedy Central, BBC, Al Jazeera, NBC, FOX, NFL, Court TV, National Geographic Channel, Univision, and the BBC, to name just a few.
Recent high profile broadcast projects that have leveraged CINEMA 4D include TMZ TV, Dr. Who, ET/The Insider, Nike Power, the Academy Awards "80 Years of Oscars" montage, SoBe Life Water Superbowls Thrillicious commercial, NBC Sunday Night Football broadcast package, Jeopardy and Wheel of Fortune openings, NBCs identity rebranding, Big Science on the Discovery Channel and many more.
Otto Bock HealthCare
CINEMA 4D Used by Otto Bock HealthCare GmbH for Medical Products Visualization.

Beowulf Worlds Created Using Matte Painting In CINEMA 4D
Artists at Sony Pictures Imageworks once again proved that short deadlines and hefty digital scenes that would break a normal pipeline were putty in their hands, thanks to stable tools such as MAXON's CINEMA 4D.

100 Biggest Weather Moments
Eddie Terrell, senior design specialist for The Weather Channel, said creating the show package for the special, "100 Biggest Weather Moments", was a breeze with CINEMA 4D.

Animago AWARD 2008
The Countdown Is On For the 2008 International Web Competition For Digital Content

Visitors to the MAXON booth will see the companys full range of motion graphics solutions and associated demonstrations, including MAXONs popular MoGraph module, which provides artists with a broad palette of tools that make it easy to create everything from flying logos to abstract effects. Booth demonstrations will also highlight the significant workflow enhancements CINEMA 4D brings to creative professionals in the production of award-winning TV programming, commercials, motion graphics, broadcast graphics and promos, feature films, film/game/television pre-visualization, interactive gaming and video production.
About CINEMA 4D
CINEMA 4Ds core application contains everything needed to quickly and easily create high-end 3D images and animations. Additional modules provide added functionality and customization to suit a wide array of industries. Modules can be purchased individually or in bundles. CINEMA 4D renders scene files directly to popular editing and compositing applications including After Effects, Final Cut, Shake, Combustion, etc., and is completely cross-platform for Windows and Mac.