CGInstuctor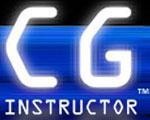 CGInstuctor Launches new training site with hours of Maya Training
CGInstructor is dedicated to producing the very best in Maya training for today's digital artists. Through out the site you will find hours of videos tutorials produced by Autodesk certified instructors. Each of the many lesson presented here are broken down into step by step easy to follow videos, making it simple to learn advanced techniques.
When you become a CG Instructor student you not only get access to all of the training we offer through out the site, but you get excusive email support from our CG instructors.
In addition to the new members area dozens of free tutorials have been added to the preview section of the site.
What is next for CGI? Currently we are working on many new tutorial for the site that will be released week by week. We strive to have the most recent and valid Maya training anywhere on the web.
Our currently training library holds video tutorials on the following areas.

Maya Basics
Maya nCLoth
Maya Polygon Tools
Maya Texturing
Maya Concept Car Modeling with Josh Bare
Maya Lighting
Maya Dynamics
Maya Polygon Modeling
Maya Animation with David Bokser
Maya Walk Cycle Basics
Maya Paint Effects
and much more!

About CGInstructor
The mission of CG Instructor is to provide the very best in Maya video training for
emerging digital artists. It is our strong belief that great education should be affordable to everyone! This is why students of CG Instructor will always have total access to all training through out the site.
When you become a CG Instructor member you become part of a large family of artists, students, and instructors who are passionate about Computer Graphics.
Once you become a member of CG Instructor your training doesn't just stop with the hours of video training you will find in our training library, but you get full email support for our CGI instructors. Our dedication to making sure our students get the most out of their training is why so many students and artists at major game studio like Ubisoft have become members of CG Instructor.

Getting started is simple! Membership is only $19.95 a month. With your monthly membership you get full access to all of the training through out the site, access to hundreds of textures, and unlimited email support from CGI instructors. Membership is month to month and you are free to cancel anytime.