MyToons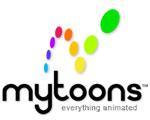 New HD Animation Technology Provides Highest Quality Experience For Animators And Fans Around the World On MyToons
Global animation community MyToons becomes the first animation website to showcase members animations in high definition online
The worlds premier online animation community, today announced the launch of HD Animation"; a first for any online animation site. Animators and animation fans around the world can now experience both independent and studio animations in glorious high definition color and clarity precisely as the creators intended them to be viewed at MyToons. MyToons has reached a significant technological and artistic milestone, making us the first animation community to showcase high definition animations,explained Paul Ford, co-founder and president of MyToons.com.Animators everywhere are really excited about this opportunity to upload and share their HD creations with MyToons global fan base.
In addition to providing an HDTV-quality viewing experience, MyToons new system allows users to embed and share HD animations at full resolution both on the MyToons site itself and on other pages throughout the Internet. Viewers can easily toggle from standard definition to high definition, as well as view animations full-screen. Animators everywhere are invited to upload their high definition animations for free to MyToons.com, which already includes one of the largest collections of member-created animations found anywhere on the Internet.
We are thrilled to now be able to provide full-quality HD to the online world said Dan Kraus, CEO & co-founder of MyToons.Its always exciting for us to deliver a technology that takes the next step forward, and really makes a difference in the quality of the MyToons user experience. This is definitely it. The new HD Animation feature set is part of MyToons unique and proprietary technology portfolio, under development by the company for several years. The launch of HD Animation also coincides with the launch of a dynamic new site design on MyToons, the first major design change for the site since its launch in March of 2007. The new design provides for increased ease of use and the most advanced entertainment experience of any animation website available. MyToons has received a tremendously-positive response from both site members and the animation industry as a whole for their recent implementations.
Animators are always interested in delivering their work at the highest resolution possible, said Jerry Beck, a noted Animation Director/Producer and Historian. MyToons HD Animation delivers an amazing new way for animators to share their talents with the world, at a resolution which rivals anything on HDTV.
MyToons.com is the world's premier online animation community. Launched in spring of 2007, MyToons.com provides global content creators with a free platform to share their original animations, artwork, and games with animators, enthusiasts and fans world wide. Combining high-quality standard and high definition (HD) video file streaming with best-in-class social networking for animators, MyToons.com showcases the greatest variety of independent and studio animation anywhere. Dedicated to "everything animated, MyToons allows artists to share their techniques, discuss their thoughts and ideas, and explore their commonalities in a robust visual environment.