Got3d - Animated People Textures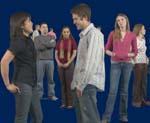 Got3D - After months of hard work, we are ready to release our new animated people. We love 'em and hope you will too.

We have 4 libraries of animated people textures available and more than 80 animated people available in our Singles section. Business and Casual was the theme this time, but more are coming soon. These Animated People Textures are available in Bundles. You may also mix and match in our Singles section.

Got3d's Animated People Textures are the best low polygon, photoreal solution for moving people in your 3d scenes. Now you can quickly and easily add one, two or an entire crowd to your 3d environment without the polygonal overhead. Each animated person has twenty seconds of unique motion, more than enough for most animated shots. High Definition resolution on all the people allow for incredible alpha mattes and well preserved details. If your program can read in a series of images, you can use these people!