New Perspectives on Seattles Space Needle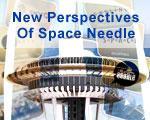 Luxology's modo Delivers New Perspectives on Seattle's Space Needle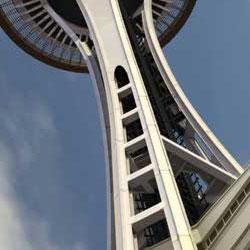 Dawson 3D Creates Photorealistic Animated Fly-by of 605-foot Tower Entirely in modo
When the owners of Seattles Space Needle wanted a photorealistic 3D sequence of the iconic structure for a new marketing campaign, advertising agency Radarworks knew exactly who to call: Dawson 3D. Their confidence was rewarded when studio founder Henk Dawson delivered a stunning animated fly-by created entirely in modo® 302, Luxology's award-winning, artist-friendly 3D content creation software.
The art direction Dawson received was both simple and challenging, requiring him to draw on his 18 years of experience in illustration and animation. Even though no real-world camera could capture the close-up perspective required, the sequence had to look as if it was physically filmed. The clients objective was to inspire people at the Space Needle's base to visit the restaurant and observation deck at the top of the 605-foot Googie-style structure, built for the 1962 World's Fair.
Dawson began by using modo 302 to model the Space Needle in hyper-realistic detail, working from architectural drawings and photos. modo's superb animation capabilities were then utilized to create spiraling camera moves around the tower all the way to the top. At that point, the camera smoothly pulls back, flies around the exterior of the Observation Deck and then sails over the structure looking straight down. Other views of the Space Needle for the homepage of the website were created simply by adjusting the digital camera in modo to achieve the exact perspective desired.
I recently converted to modo and it now sits at the center of my pipeline,says Dawson.On this project, two things in modo carried the day for me the use of Instances and Physically Based Daylight. With Instances, I was able to build the model by replicating components across portions of the structure, such as the repeating 9-foot sections of the elevator shaft. And when I turned on Physically Based Daylight in modo, the result was incredible, with no tweaking required.
The quality of modo's output was clear early in the project, when Dawson completed a presentation using photographic-quality images he had created with an unusual perspective. Their reaction was, Whoa! How did you get that shot? he adds. They had never seen such photorealistic architectural renderings.
"The sequence Henk Dawson created in modo looks so realistic that many people will never realize it is animated, and it is a testament to his artistry," says Bob Bennett, vice president of marketing for Luxology. With modo, Henk was able to create never before seen perspective views of the Space Needle's unique architecture.