SOFTIMAGE announces XSI 7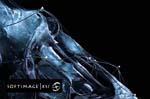 Avid announces Softimage XSI 7 - Code Less and Create More.




Imagine 3D software so flexible, that you can modify how any tool works. So intuitive, that you can create custom tools and effects visually, and see the results interactively, all without scripting a line of code. So collaborative, that artists, TDs and developers can work together to create solutions for the next generation of movies, games and television productions. So powerful, that it uses all processor cores in your workstation and scales, with near-linear performance gains, by adding more cores.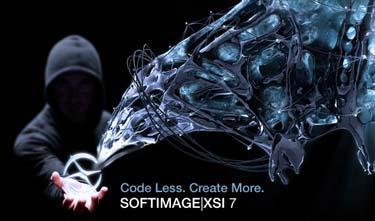 Introducing ICE (Interactive Creative Environment) - an open, scalable platform that allows anyone to extend the capabilities of XSI quickly and intuitively using a node-based dataflow diagram. This paradigm means that 3D artists can create complex 3D effects and tools extremely quickly without writing code. Powering ICE is a high performance parallel processing engine that takes advantage of multi-core workstations – a first for a general 3D architecture – giving users utmost performance and scalability. The result is a giant leap forward in production efficiency and consistency, enabling higher production standards.

ICE is fast, interactive and offers significant advantages over traditional scripting and coding:

* It's visual – ICE uses a graph-based graph for creating and modifying 3D tools and effects. You can see exactly what's happening without examining code.
* It's interactive – You can create and modify your effects, and see the results executing immediately.
* It's fast – Tools developed in ICE run as fast as, or faster than compiled code. ICE takes full advantage of multi-core processing and scales almost linearly.
* It's predictable – There's no custom code or scripts, where a lot of time is spent debugging code and getting to compile. ICE just works. You can see the results immediately and develop quickly.
* It's flexible – Don't like the way a feature works? Don't wait for someone to write a plug-in, or for the next version of XSI. Just open it in ICE and edit it.
* It's safe - ICE comes complete with a versioning system, so that you can roll back changes easily.
* It integrates nicely – ICE comes with a full suite of import/export tools to ensure for seamless data interoperability with current pipelines.
* It gives control – ICE also comes with a visual debugging system for solving complex problems. It also has performance analysis tools to help users optimize effects.
* It enables sharing – Once you've built your tools, it's easy to package the compound and share it. Send it to your team, put it online, or even encrypt it and sell it.
* It's infinite - the creative possibilities are endless.


ICE PARTICLES

Out of the box in XSI 7 is an entire particle system based on ICE. The new ICE particle toolset comes with over 200 presets that you can start using with drag and drop simplicity. Because it's built on ICE, you can open up these effects and modify them, or create entirely new effects with ICE. Simulating natural phenomena such as dust, sea salt, water droplets, sand, smoke, or sparks from a fire are easy as drag and drop.

ICE particles go far beyond the usual. You can make objects and even characters act like particles: rocks tumbling, pieces of paper scattered in the air, glass pieces breaking, leaves falling, grass growing, butterflies fluttering, bees buzzing, or humans walking about. Anything that you want to move like a particle can be done using ICE particles.

ICE Particles – ICE lets you create amazing particle effects quickly in XSI using a node-based dataflow diagram. ICE is also used in the Render Tree, so you can enjoy working with compounds and nodes to create complex particle shaders (as seen above).

Integrated PhysX rigid body dynamics let you create realistic motion using particles as rigid body objects. This means that the particles can collide with each other, based on their shape, and with other objects that are set as obstacles. Using particles as rigid bodies, especially in conjunction with instanced geometry, you can create effects that involve many small pieces that collide or accumulate, such as bricks, stones, or anything falling in a pile or being blasted apart.

In addition to ICE, XSI 7 is packed with new features and enhancements, including:

Global color management tools for working in linear color space and applying Gamma correction.
Delta II—a major update to the breakthrough Delta referencing system.
Integrated mental ray renderer v.3.6, including new options for indirect illumination, and mental ray stand-ins for faster rendering.
RTS 3.0—an updated realtime shader API featuring all new programmable shaders that support the latest display technologies.
A streamlined licensing system to get you up and running, fast.