MrMaterials
Great news! We are officially launching a new site called MrMaterials! The site will be a mental ray material repository for Max, Maya and XSI with a section for straight texture files as well, so it should prove useful to all.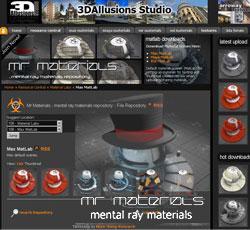 The complete Arroway Texture collection have been translated into over 300 Max mr archdesigner materials using the sample textures, but with the full sized texture names. Under these conditions if you have the full sized Arroway Textures these materials will automatically use the full sized texture files if pathed in your preferences. Arroway has also donated 20 full sized texture sets that will be released individually over the following weeks.

Each software platform has three initial MatLabs (material scenes) available for material setup and testing. Hard surface (default) as well as cloth and a glass and liquids scene as well are available.