3D Palace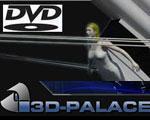 3D Palace - Package Deal for the Summer (Expert Shipwright Pack)

The Expert Shipwright Pack (ESP) taking you from sailing ships to spaceships and teaching you how to be a master of technical 3d. The price of the set as DVDs is £75($150) including postage workdwide - a saving of over £15, or you can download the three sets here for £55($110) - you will get a 30 day download window which is plenty of time to get this 24 Gigobyte set.

Model the classic Cutty Sark tea clipper, in a massive three DVD set that teaches you about careful imageplane use, spline building, rope rigging and everything else you need to make this elegant built-for-speed ship - everything is covered from the simple bolts that hold on the rope eyes to the detailed cabins with porthole windows to the figurehead, modelled both traditionally and, for those who prefer not to spend too much time on organics, using daz3d.

Build Serenity - as seen in Joss Whedon's film of the same name, this set shows you how to build a set detailed recreation of the Firefly Class ship Stormbringer - a sister ship to Serenity - then animate the takeoff and flight, not forgetting to look over the detailed appendixes on additional detailing and creating prefab buildings for use as background props. Everything is covered and nothing missed in this great and detailed set.
New DTE

The Master Seminar set - teaches you about ship detailing - taking a basic concept and applying detail to it in order to create a detailed and interesting piece. In addition the Master Seminar covers useful particle techniques for explosions, fire and debris, interparticle collision, ship chases and also a bonus 8 legged spider build with rigging and 9 legged animation.