3ds Max 2009 Architectural Visualization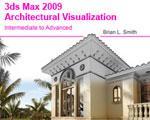 3ds Max 2009 Architectural Visualization Intermediate to Advanced Now Shipping
3DATS announces the shipping of its second 3ds Max book dedicated to the architectural visualization industry: 3ds Max 2009 Architectural Visualization Intermediate to Advanced. Many years in the making, this 544 page, full-color, hard-cover bound title is the combined effort of 9 different authors from around the world who have combined their experiences and skills in the creation of a book that is truly a first of its kind; an advanced 3D visualization book filled with techniques that have been time tested in major production firms for maximum speed and efficiency.
This book is the follow-up companion to the book entitled 3ds Max 2008 Architectural Visualization Beginner to Intermediate. That book was written primarily for beginners and was designed to take 3ds Max users to an intermediate level and provide the basics needed to land a job with a visualization company. 3ds Max 2009 Architectural Visualization Intermediate to Advanced takes the next logical step and is designed to take intermediate
3ds Max users to the advanced level, not just by teaching more advanced features, but also by teaching practical application and time-saving techniques of the tools covered in the Beginner to Intermediate title.
Included at the back of the book are numerous appendices that provide a wealth of tools including production tips, marketing strategies, business resources, a V-Ray reference guide, and much more. In the end, we believe that a great mixture of practical application and real-world experience was achieved and presented in the most logical order. We hope you agree!
Also included with the book are special discounts from leading industry vendors and valuable downloadable content. Support files are available in release 9.