Archexteriors vol. 05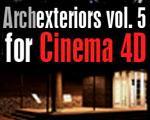 Archexteriors vol. 05 for Cinema4D. Do You want to learn how to make commercial renderings? How to setup your exterior scene?

Archexteriors gives you this possibility. See how it looks from the backstage. Make money from professional visualizations. Take a look at those 10 textured and shadered visualization scenes ready to be rendered. Buy this dvd and join cg market.