PPTK 2.0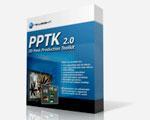 PPTK 2.0 is the latest version of the original Post Production ToolKit.
Version 2.0 takes MultiView 3D postproduction to a new level with the latest in 2-view to MultiView conversion tools, 2D to 3D conversion and productivity increases from 4-25 times.
The 3D Post Production ToolKit is a professional compositing and editing application for 3D videos and 3D images. This software integrates all tools necessary for 3D creation, 3D conversion, 3D editing and 3D encoding.
The 3D Post Production Toolkit provides an interactive graphical user interface with 3D preview. All processing is done in a configurable filter graph. Different filters can be connected in the GUI (Graphical User Interface) by drag and drop.
Each filter provides a user dialog for modifying the filter attributes and/or parameters.
Filters cover the following operations:
2D to 3D conversion
3D compositing and 3D effects
color correction and color effects
video editing
mathematical operations
image transformations
input and output operations
NewSight operations
2D text and polygon drawing

The media processing functionality is provided by application-based plugins which can be loaded dynamically at run time. All parameters are animateable. All actual work can be saved in a project file.