MAXON USA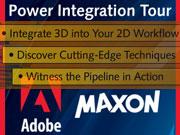 MAXON USA 2008 Recap and Outlook 2009. MAXON and Adobe joined forces once again for an eight-city tour that made stops in San Francisco, New York, Boston, Minneapolis, Vancouver, Seattle, Montreal and Toronto.
MAXON-Adobe Power Integration Tour

Together, MAXON and Adobe demonstrated how users can enjoy increased speed and efficiency in the production pipeline by combining the power of Adobe's Production Suite CS3 (now CS4) and MAXON's CINEMA 4D - underscoring why the Adobe/MAXON workflow is the proven choice for top motion design studios worldwide.
MAXON Experts Featured at Industry Events
Guests artists and MAXON experts took center stage at several key industry events including the Game Developers Conference, ProMAX BDA, NAB, Siggraph, Motion 08 and others, drilling down into the software to share their expertise and illuminate MAXONs powerful capabilities for creating exceptional motion graphics for television, films and games. Featured demonstration artists throughout the year included visual effects expert Justin Bates, whose work includes projects for Adidas, Gillette, Ford and many others, Ben Mathis a seasoned video game developer who has worked on nine game titles including Tony Hawk Project 8, Titan Quest and GUN, and Rob Garrott, a broadcast design veteran, Art Director, and an instructor at the Art Center College of Design, with extensive experience in broadcast graphics, including a two-year stint as Art Director for Fox Kids. Broadcasters Turned to MAXON
Creative professionals around the world continued to adopt MAXONs CINEMA 4D software into their 3D digital content creation workflow to create compelling broadcast motion graphics. Heavy-hitting customers include The Weather Channel, MTV, CMT, Comedy Central, NBC, FOX, NFL, TRU TV, TNT, TBS, HGTV, MSNBC, ESPN, HBO, CNN, USA Network, National Geographic Channel, Univision, ABC, E!, Telefutura, Al Jazeera, NHK (Japan), NTV (Japan), SAT (Germany), RTL (Germany), the BBC, and numerous others.
CINEMA 4D / BodyPaint 3D Featured in Film
CINEMA 4D and BodyPaint 3D were used in the production of many of this year's most acclaimed animated and VFX-intensive feature films. Several likely contenders for awards in the VFX category include Hancock, Speed Racer, The Incredible Hulk and The Mummy 3. We'll have more information to share about MAXON's involvement in the creation of these films in the coming weeks, so please stay tuned!
Release 11 Makes Debut at Siggraph
The highly anticipated update of MAXONs popular software suite was unveiled to enthusiastic reviews during Siggraph 2008. Members of the press received a special reveal of CINEMA 4D Version 11 during a hosted luncheon that included Steve Matson, lead painter from Sony Picture Imageworks, who wowed the crowd with an in-depth look at the development of stunning scenes from Beowulf created with CINEMA 4D. Additionally, MAXON held its first annual World Wide Users Group (WWUG) meeting, where MAXON enthusiasts came together to share experiences and learn the latest tips and techniques for getting the most out of their MAXON applications.
And, just this week, MAXON released a second free service update for CINEMA 4D R11 with over 100 improvements. This recent free update provides over 100 enhancements in the areas of rendering, animation and workflow.

Cineversity Hit 1,000 Tutorial Milestone
MAXON's comprehensive online educational resource added major updates and tutorials. The site topped 1,000 tutorials and currently hosts over 200 hours of video tutorials. This major milestone served to underscore MAXONs commitment to helping artists maximize their creative potential by providing instruction on some of the worlds most advanced visual effects techniques and methods. New tutorials developed by recognized MAXON experts are added on a regular basis, ensuring the caliber of the content remains consistently high. Visit the Cineversity site to see the complete array of materials currently available. 2009 Projects and Events in the Pipeline

Conferences/Expositions/Seminars: MAXON is scheduled to participate in many major industry events throughout the year including: GDC, NAB, Siggraph and others. We'll keep you posted with details closer to event dates.
MAXON takes 3D animation and motion graphics to the next level - 2009 looks to be a hot year for 3D content creation as even more studios put stereoscopic films into production and eye 3D for complementary uses such as digital trailers and promotions. MAXON is working closely with technology providers, including those developing autostereoscopic (no glasses required) displays, to ensure MAXON customers will be able to seamlessly create stereographic matte paintings and other 3D content compatible with this exploding format.
The ongoing reliance on MAXON for motion graphics also bodes well for 2009, as customers continue to turn to CINEMA 4D to create content for projects in the areas of medicine, engineering, architecture, broadcast and more. Detailed story ideas will be sent to you throughout the year.