DX Studio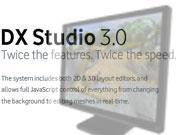 DX Studio Winter 2008 Games Competition Winners Announced


The winning entries to the DX Studio Winter 2008 Games Contest have just been announced by Worldweaver Ltd.

First prize has been awarded to Richard Franklin for his game Stewardess 19 which is involves guiding a multifunction cleaning drone through levels. The judges really liked the well integrated graphics, great music and friendly UI that made for a really fun and well balanced game. Richards prize includes GBP 1,000 cash and a Commercial Pro DX Studio license (worth GBP 375).

The runners up prize went to Meridian Core (a beautifully modelled fantasy game where you battle your way past monsters) by Michael Cook. The competition has been a resounding success and we have seen some fantastic talent emerge. Its also been great to see the high level of diversity that has come out, though it has made the judging very tricky said founder Chris Sterling.