Adobe ships Dimension CC 2.0

Adobe has released Dimension CC 2.0, the first major update to its 3D rendering and compositing tool aimed at "graphic designers, not 3D experts".
The update adds support for texture layering; makes it possible to import files in a wider range of 3D formats, including FBX and STL; and adds a work-in-progress interactive web export system.
The release, also referred to as the October 2018 update, shipped at the Adobe MAX 2018 conference, alongside After Effects CC 16.0, Character Animator CC 2.0, Photoshop CC 20.0, Premiere Pro 13.0, and new versions of Adobe's other creative tools, including Illustrator, InDesign, Lightroom and XD.
A designer-friendly drag-and-drop 3D rendering and compositing tool
Originally codenamed Project Felix before its commercial release last year, Dimension CC is intended to enable graphic designers with little experience of 3D tools to incorporate 3D elements in their work.
Users can import 3D models created in other software, assign materials, textures and HDRI lighting via a simple drag-and-drop workflow, and render images as layered PSD files for post-processing in Photoshop.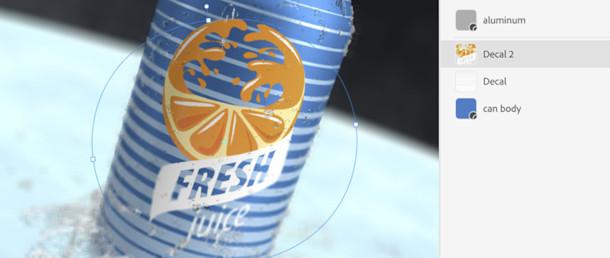 New in Dimension CC 2.0: multi-layered decals, support for more common 3D file formats
To that, Dimension CC 2.0 adds a couple more features from conventional 3D applications: primarily those that make sense in packaging design, the software's main target market.
They include support for multi-layered decals – although Adobe's blog post suggests that full material layering is also possible – and the option to bookmark multiple camera views for batch rendering.
The range of file formats that Dimension imports has also expanded: as well as OBJ format, 3D models can now be imported as FBX or STL files, or in SketchUp's native SKP format.
2D images can be imported as SVG files or in Illustrator's native AI format. Users can also now choose artboards when importing AI or PSD files.
Workflow changes include "familiar 2D zooming, panning, and resizing controls" in the Dimension canvas, and the option to use physical units or print resolution when setting canvas size.
There is also a new Sampler tool, capable of sampling both screen colour and the base colour of materials before lighting effects are applied. You can find a list of new features in the online documentation.
New native Dimension rendering engine
One thing that isn't mentioned in the 'What's new' section of the documentation, but which appears in Adobe's blog post, is the new native Dimension rendering engine.
That's an interesting addition, since one of the striking features of the initial release was that it used the same core rendering technology as V-Ray.
The new engine offers "faster interaction and render preview times", so it sounds like a separate preview engine rather than a replacement for the V-Ray tech, but we've contacted Adobe to check that.

Interactive web export to form 'big component' of Adobe's Project Aero AR authoring platform
In a separate blog post, Adobe says that it is "starting to tease that Dimension will ultimately be for more than compositing".
In the short term, that means an integrated design review system, currently in beta: users can publish Dimension scenes in an interactive 3D web view and send the URL to clients or collaborators for comment.
In the longer term, the interactive web export will form a "big component" of the role that Dimension plays in Project Aero, Adobe's upcoming AR authoring platform.
Announced at Apple's Worldwide Developers Conference earlier this year, it combines existing tools like Photoshop and Dimension with new dedicated immersive design tools and cloud-based publishing services.
You can find a short overview of the technology here and sign up for early access here.
Pricing and availability
Dimension CC is available for Windows 10 and Mac OS X 10.12+ on a rental-only basis.
Since the original release, the price of an annual subscription to Dimension has risen to $20.99/month, while subscriptions to all of Adobe's creative tools now start at $52.99/month.

Read more about the new features in Dimension CC 2.0 on Adobe's blog