Microsoft Black Friday 2018: What to expect
Everything you need to know to snag the best Microsoft Black Friday deals.
In this article you'll find everything you need to know about what to expect from Microsoft Black Friday 2018 and Cyber Monday. We'll be covering all the hottest offers (including any great Black Friday Microsoft Surface deals) as soon as any information is announced. But for now, we've rounded up what we know so far, plus some predictions for what to look out for based on past Black Friday events.
Microsoft has upped its game over recent years. Ranges such as Surface are providing serious alternatives to Apple products, and making Microsoft a much stronger option for designers looking for the best creative kit. But like any great tech, it doesn't come particularly cheap, which is why it's worth making the most of any Black Friday Microsoft deals that do become available.
This year's Black Friday will take place on 23 November, with Cyber Monday following on 26 November. If you don't have time to wait until then, scroll to the bottom, where you'll find all the best prices on Microsoft products right now.
For offers outside of Microsoft products, take a look at our roundup of the best Black Friday and Cyber Monday deals in 2018.
How to get the best Microsoft Black Friday deals
To start with, bookmark this page. We'll be updating this article with all the best Microsoft Black Friday 2018 deals as soon as we hear about them, so make sure you check back. As well as the Microsoft Store itself, other major retailers will certainly be getting in on the action with some strong offers of their own.
Take a look at our posts for the best Amazon Black Friday and Walmart Black Friday deals, and keep an eye on other tech retailers such as Target and Currys. To make the most of the offers, it's worth checking for add-ons or gift cards that will make your deal even better.
Black Friday Microsoft Surface deals: What to expect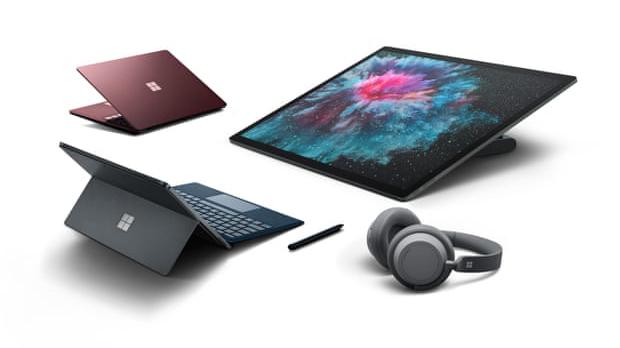 The products everyone's interested in right now is Microsoft's Surface range. Last year, Microsoft itself offered a couple of great Black Friday Surface deals, offering a saving of over £250 on the Surface Pro Core m3 and the Surface Pro i5. Amazon slashed prices on Microsoft Surfaces as part of its bank holiday (UK) and Prime Day sales, which suggests that there may be more deals on the way from Amazon this Black Friday.

Microsoft's big news is the launch of two impressive new Surface laptop models: the Surface Pro 6 and Surface Laptop 2. Although at time of writing they'd only just hit the market, both have already gained rave reviews. Our sister site TechRadar called the Surface Pro 6 "the best Windows tablet money can buy", with longer battery life and improved performance over the Surface Pro 2017 (read the full review here).

The Surface Laptop 2 has also impressed reviewers. TechRadar awarded it a nearly-perfect four and a half stars, saying "it ultimately achieves the most pure Windows 10 experience on a laptop" (read the review).

Because they're so new, Black Friday Surface Pro 6 and Surface Laptop 2 deals aren't that likely, but it's worth keeping an eye out just in case. However, the arrival of these supercharged devices is likely to mean the older and alternative models, such as the Surface Studio, will be going into the Black Friday sale as retailers seek to shift stock. These are definitely worth a look – we were particularly impressed by the original Surface Book.

Not sure which Surface is for you? Take a look at our reviews for an idea of what each one offers:

Surface Book review (5*) Surface Book 2 review (4.5*)Microsoft Surface review (3.5*)Surface Pro review (4*)
Microsoft Office Black Friday: What to expect
Microsoft Office has never been cheap, but 2017 saw a number of Microsoft Black Friday deals taking the sting out of shelling out for Word, Excel and the like. Shoppers could get up to £30 off O365 Home – a Microsoft Office bundle that includes Word, Excel, PowerPoint, Outlook and OneNote, which is all the essentials covered.
Microsoft Black Friday Xbox deals
Shoppers are also hungry for a Black Friday Xbox deal. No news yet as to if there's anything planned for this year, but in 2017 Microsoft offered some good bundle and accessory deals, including an Xbox One S Minecraft bundle for just shy of £200 (saving around £120). Meanwhile, these are the best Xbox deals currently available.
The best Microsoft deals right now
We'll be announcing any great Microsoft Black Friday and Cyber Monday deals as soon as they're announced. For now, here are the very best prices for Microsoft's flagship products. Our tool checks over 130 million products every day, so you can be sure you're getting the best price around.