Maxwell Render 1.1
The architectural visualization market now has available Maxwell Render 1.1 by Next Limit Technologies, a powerful tool that allows visualisers and architects to predict how light and materials will interact and behave with great accuracy, just like in the real world.
Is this sounding too much? Next Limit Technologies, its creators, is promoting it as The Light Simulator because Maxwell is a render engine based on physics of real light. It uses physical equations of light transmission which results on very realistic illumination results without having to rely on such tricks as photon maps, radiosity, light maps or irradiance maps. Materials are also constructed in a physically correct manner, giving the ability to render images as real as a photo.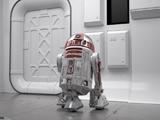 R2D2: Mike Verta www.mikeverta.com
Maxwell provides two different types of workflow. One is through plugins to be used with 3d Studio MAX, Viz, Maya, SolidWorks, Rhino3D, LightWave 3D, SketchUp, formZ, Cinema 4D and ArchiCAD. This way we can still continue to use our application of choice and use the Maxwell powerful capabilities. In Maxwell 1.1 some plugins were improved or renewed in order a better integration. The other one is by importing geometry into Maxwell Studio, a standalone application where we can create, edit and assign materials to objects, edit UV sets, setup lights, cameras and hit the render button. The currently supported file formats are .3ds, .dxf, .lwo, .nff, .obj, .xms, and .stl. This application runs on a variety of operating systems including Windows 32/64, Linux 32/64 and Mac OS X.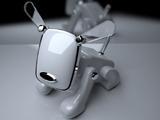 Robot dog: Mick Kellman
One item of interest to architects is the improved SketchUp plug-in, which handles exporting of SketchUp materials and even allows you to assign materials from your Maxwell material library to objects in SketchUp. During export to Maxwell the current camera POV is exported, allowing scene set up in SketchUp similar to the other programs that Maxwell supports, even though SketchUp is not a real rendering program.
The Maxwell camera is nothing like we've seen before in other applications. It works precisely like a real world camera, so it offers real effects such depth of field, motion blur and different types of glare. We can setup the shutter speed, f/stop and ISO just a real camera in manual mode. We have a visual focus indicator, which provides information about the focus conditions in the target.
All this camera parameters can be setup before the rendering calculations start or while it's in progress showing the changes made in real time.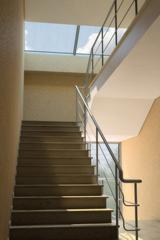 Stairway: Paulo Barrelas
Muitilight is a feature that allows altering the light intensities of the emitters individually during the rendering process or after it finishes. These changes can be keyframed, animated overtime and saved as a sequence of images, which can be imported to a compositing application. This is a very useful feature because we can create an animation of the different light conditions in a given scene with no limitations for the number of cameras. At this time Maxwell does not support animations with the exception of the work around mentioned above.
The "physical sky" simulator found in Maxwell, is very useful to simulate the sky and/or sun influence at different latitude and longitude values. We can manually enter these values or use a KML file from GoogleEarth (you can find a tutorial here), to setup a given location in the planet. This is very useful because we can test the light behaviour on buildings even before they are constructed.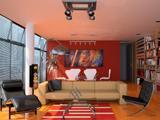 Concept Apartment: Paulo Barrelas
Maxwell materials are totally different from what we've seen in other packages. Each material uses mathematical function that describes how light interacts with surfaces – BSDF (Bidirectional Scattering Distribution Function).
The material editor is very easy to work with and offers several options to set up a material in a physically correct manner (you can find a tutorial here).
On this Maxwell 1.1 version, several material wizards are available to help us create realistic materials on the run. Also the material libraries have been renewed providing us with additional and improved materials, we even have more types of preview scenes to test our materials on while we're editing in the material editor. Projectors are similar to UV coordinates and multiple projectors can be applied to objects in order to tweak placement, size and repetition of layered materials. In addition Next Limit Technologies has created a free materials repository (find here) for the community to share their materials with others. This is a fantastic resource with hundreds if not thousands of materials for free download. Not only is the site well set up, but a standard scene has been provided for displaying the materials so you get a realistic idea of what the texture is going to look like applied to an object and each example is using the same lighting and environment for accurate comparison.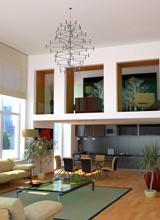 Concept Apartment: Paulo Barrelas
In Maxwell 1.1 we're able to render images with bigger resolutions without worrying with our limited RAM. The Hard Disk (-hd) function lets Maxwell to use our hard disk memory in addition to our RAM.
As a standalone application, Maxwell offers us a very good workflow and stability. The layout is easy to configure and intuitive, we even have available several types of layout optimized for the type of work we're doing – rendering, object editing, material editing, etc. This 1.1 version offers us several GUI and stability improvements, the Pack & Go option which allows us to share an entire scene with someone else, camera hide/lock and added checkboxes of more command options are among some of the other improvements.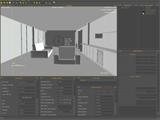 Maxwell Studio Layout
This last Maxwell version has more improvements beyond the ones already exposed like optimized speed, noise pattern artifacts after many samples have been fixed on the sampling pattern, dielectrics improved regarding noise and Total Internal Reflections, refraction Index expanded up to 1000, Bump and Normal Map system has been completely renewed, SSS has been completely re-written for the best performance and boasts remarkable improvements compared to version 1.0, anisotropy, caustics and coatings have been vastly improved, spectral conversion produces more accurate output colors, ISO and Shutter controls have been added to the EmiXer and can be animated.
Maxwell 1.1 is a great tool for the architectural visualization, to prove that, on the CGarchietct.com 2006 Architectural Visualization Industry Survey, Maxwell Render was still in its public beta release and was already the 3rd most used renderer on the market. A new level of realism is available to us.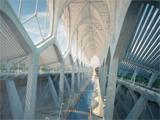 Cathedral Street "Runner Up" Architectural Wonder II Contest: Paulo Barrelas
Conclusion: Very realistic output renders, multi-program support through plug-ins, stable and mature in relationship to product age. The program needs to incorporate animation to meet every bodies needs, but for still images, all the tools are there. As with most third party render engines a proprietary material system is used and will require some tweaking or replacement when using existing model libraries. The one item that continually comes up about Maxwell is it's render times, these are longer than most programs, but for this level of realism there is a price that must be paid and you can always stop the rendering and save out what is complete to meet a deadline and then continue the rendering process by merging the previeous mxi file with a new one (the continue render feature will be present on future releases). The program appears stable and produces great renderings and we believe it will only get better.
Author: Paulo Barrelas, architect, works and lives in Portugal, and is proudly part of the 3DAllusions team.
There are no comments posted here yet