Autodesk's Impression
Article Index
Page 1 of 3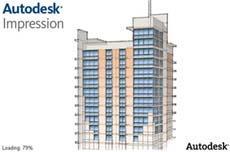 First off, if you make your living with actual colored pencils and markers, love the smell of 'PrismaColor' in the morning, you may want to stop reading this, it could be kind of depressing…
A FIRST LOOK AT AUTODESK'S 'IMPRESSION'
INTRODUCTION: It is a pleasure to see Autodesk work on and publish something I find unique, innovative and even useful, not that their other products aren't useful and even innovative at times, but this product is a first of sorts and I applaud that and it's uniqueness. For those who do not know what Impression is, it is a program for taking CAD drawings and converting them to look like hand drawn renderings with a work flow that is consistent with the CAD drawing process. It has been in beta testing for a while and now that the release has been announced, I can talk about it. In reality, I do not understand why a program of this type did not appear at least a decade ago. In today's world of BIM (Building Information Models) systems being adopted by architectural firms and 3D models of the projects being a by-product of the construction documents, and systems with built in rendering, it would seem this product is too late. What it actually provides is a way for architects to use what they have created in CAD and create a lose rendering that looks like options may still be pursued and presented to the client without a lot of overhead involved, I think it has a place in today's market.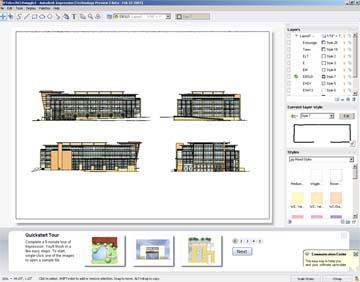 PERSONAL PERSPECTIVE: Here is the scenario where I think the program will find success: Your firm has a standardized layering system that is used for the most part, so the style of 'Impression' output can be used consistently and with little fuss from project to project without a lot of custom setup per project-to-Impression work flow. Management realizes that bringing to the client refined photo-realistic renderings before the right time, pins down the client to a position of feeling that design changes will be costly and that they have no chance to investigate 'what-if' scenarios and multiple design studies. In this scenario the architect brings in eye candy that is loose and appears to be flexible in the directions that it proceeds in, and the firm has not devoted a lot of resources in a design direction that the client may not want to pursue. In addition, the architect can pursue many design directions, materials and colors without spending a lot of time on them. It seems like a method to increase the amount of design that goes into the design phase without stealing budget from the other phases of the process.
To the architectural visualization artist this may seem like it is taking work away from them and that this is all bad news. I think it is a win, win scenario, nobody is saying that perhaps you can't employ this process as part of your services and when you finally do get the photorealistic rendering job, a more complete concept is handed over to you. How many times has your services ended up being used as a design tool where you suffer revision after revision and all your profitability is devoured out of the job or you can't meet other job deadlines.
If you already do this kind of service, how much of a pain is it to create NPR (Non-Photorealistic Renderings) from a CAD drawing. First, do you apply a 'Freehand' macro to the drawing so that it has hand drawn looking lines? Then do you bring it into Adobe Illustrator or similar vector editor to keep some layering, but then are limited to the tools Illustrator has? Or do you plot out multiple PDF's so that you can layer them in Adobe Photoshop or other image editor and have control over hatching, etc. showing up on top of the color work, not to mention so that you don't have to fill in every brick with the paint bucket? In my experience the process has some pitfalls, including filter modifications that affect the whole image and not just the parts you want it to. Well Impression will alleviate the typical heartaches of rendering CAD drawings electronically and perhaps put a nail in the coffin of some traditional work. With that said, I don't think the average user will come close to producing the beautiful perspective renderings that traditional artist produce from years of experience and talent, this is just about creating quick artistic images from CAD drawings, so bear in mind the scope I am discussing.
All kidding aside, traditional artist can't be replaced that easily and I would hate to live in a world where that type of artistry vanished. I think the work I personally did for this review will make it painfully obvious that this is a tool and the artist has to really know a tool before using it well, unfortunately I have not mastered the tool, but I like to really use something before writing a review.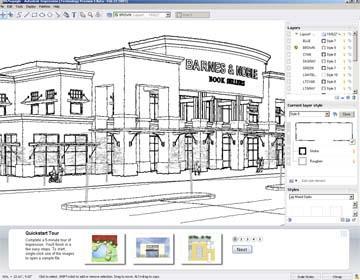 Before I get into the actual process of using Impression I wanted to cover some of the points of what makes the work flow useful as a companion to CAD drawings. First off you import DWG/DWF files into Impression and take full advantage of the information within the file. From layers to 'Paper Space', the information for organizing the drawing is brought into Impression and used in the process. Whether you stylize per layer, per object or both, the organizing information from the CAD drawing is useful in manipulating the drawings. In addition there are some really cool features like the ability to swap Impression blocks with the existing blocks in the CAD drawing globally. For example, your CAD site plan has a bunch of different types of wimpy stick figure trees and bushes, you can select an Impression block that looks like a luscious tree and select one of the blocks of tree in the drawing and have the option to replace all the instances of that particular block in the drawings. You can also update the DWG geometry information if you edit the original drawing and update your Impression's project by a push of a button. In effect, layers, entities and blocks from the CAD file can be customized or even replaced, this makes for a great work flow.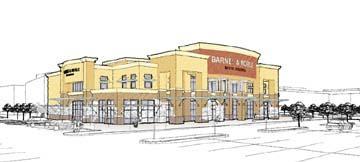 There are no comments posted here yet