trueSpace - A Love/Hate Relationship
Page 1 of 5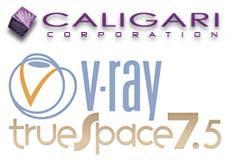 When I first heard rumors of the new features and expanded rendering options available in trueSpace 7.0 I was very excited for Caligari. You see trueSpace was my first true 3D love!
Sure I had that grade school crush on 'DataCad' and 'Renderize Live' combo back in the early ninety's, but that was just a CAD program and strictly rendering program, trueSpace was the first that did it all. Finally I could actually animate a character (one nail and manipulation at a time unfortunately) and render out a small movie of sorts, Hollywood look out! Even though I had moved on to bigger and better programs and have a toolbox of CG tools I only dreamed of in those days, I still keep a copy of trueSpace 6.5 on one of my machines. I actually pre-purchased version 7.0 but returned it (before I actually got it) when I received documentation that said it wouldn't run on Win 2000, which is what most my network was running on at that time. So when the opportunity to review and thus try out trueSpace 7.5 came along (by this time I had more machines running Windows XP Pro on my network) I was excited at the opportunity, you see, even though we had parted ways, I still wanted my first 3D love to succeed and do well. Skip to page 2: REVIEW portion if you don't want to read my ramblings and reminiscing (Image below is a screen grab of the 'Workspace' real time render).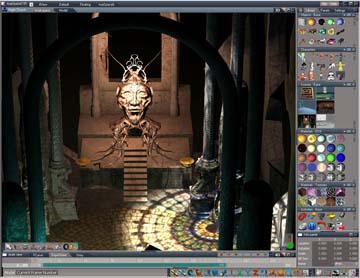 RAMBLINGS and REMINISCING: I want to cover up front why I think people are attracted to trueSpace and why I moved on to other programs, just to put the review into context. tS has a strong and unique community that is very introverted for the most part. The group inspires loyalty and camaraderie similar to two soldiers pinned down together in a fox hole for week. In addition, the resources that were available back in the day compared to other packages were very impressive. A quirky cyber-cartoonish interface that makes people feel like they use something unique and that the creative approach to interface must reflect the creativity of the user as well. Last but not least, PRICE! I used tS for years because it was all I could afford, back then the high-end applications entry level packages were around $2,000.00. The first time they usually get you with a sale, they have sales all the time, Arbor Day, groundhogs day, …….. They even have a 'Back to School' sale going on right now, a lot of us just can't resist a sale. Now Type 'A' personalities such as myself go wild, purchase every "Pak' (there were a lot) available, join subscription based 'ProTeam', heck I was even a beta tester, what more could I do to further my advancement in CG?
Eventually the honeymoon ends, a few years go by and you have loyally purchased every upgrade, subscription and add-on Caligari offers in an effort to make your program do what other programs do. It starts to dawn on you that if you had spent all that money on a mainstream package, that you would have learned a program that studios use and acquired a skill set that was marketable. This leads to the question, why are the studios using other software? Then came XSI Foundation for $495.00, which should have surely been the demise to many programs, a 500-pound gorilla for the price of a gold fish…….
Obviously Caligari is still in business as with the other companies present at the time, so most power to dollar ratio isn't what drives the market. In fact beating other companies to the punch and establishing market dominance seems to be the real key, look at Autodesk for example, getting there first and establishing a user base won the war, people aren't going to easily abandon the devil they know (for the record, I own XSI Essentials and Max 9 not to mention a lot of other programs, so references are from some experience).
So Caligari has been around since the Commodore Amiga days and has a large user base. All the qualities mentioned in the second paragraph are enough to keep a lot of people around and using the software. Don't get me wrong, tS has advanced and added features over the years. Version 7.0 was a complete code re-write, well the new parts not the scabbed on old parts, and that has to be kept in mind during this review. That doesn't mean I am going to go easy on them, but when a lot of programs are re-written from the ground up, the new version gets beat up by users and the press. My opinion is that if need be, you release the old code version with the new version at no additional cost until the new version can stand on it's own. Caligari has chosen to graft the two together in a non-cohesive manner, in my opinion perhaps a mistake. That is kind of Caligari's way, be different for the sake of being different, not necessarily for the sake of improved workflow and functionality. Obviously a lot of people find it charming and endearing, so who am I to judge.
There are no comments posted here yet