Advertising
3DAllusions started in 2004 as a non-software specific site catering to 3D computer graphics. The artist that were attracted to the site for the most part have been architectural visualization professionals from around the world. This puts us in a rather unique position, to expose advertiser's product to a target audience of non-software specific users.
We have created the following plans based on eye tracking and page layout effectiveness for CG related sites, to capitalize on name recognition and maximum perceived impressions. This is achieved by maintaining site aesthetics and isolated but integrated banner locations while maintaining non-cluttered layouts, which make advertising stand out.
PLAN A – Full Banner:
· Rotating Banners – Two Advertisers/Banners and 3rd banner for 3DAllusions use as need arises.
· 550 x 68 Banners – Main Site (Size based on layout limitation): Main Page
· 728 x 90 Banners – Forums: Virtually Every Page
· JPG, GIF, Animated GIF and *SWF (SWF in forums only)
PLAN B – Half Banner:
· Constant Banners – Six Advertisers/Banners maximum (order may change, all advertisers present constantly).
· 234 x 60 Banners – Main Site front page (located first half of page)
· 234 x 60 Banners – Forum Home and after first post on every thread page.
· JPG, GIF and Animated GIF
PLAN C – Site Sponsor:

· Fixed Banners – Twelve Advertisers/Banners maximum.
· 88 x 31 Banners – Main Site left Navigation Panel every page.
· 88 x 31 Banners – Forum Portal.
· JPG and GIF
Refer to images below for banner locations:
Main Site: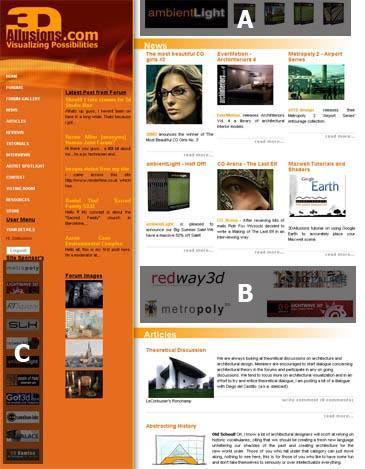 Forum Portal: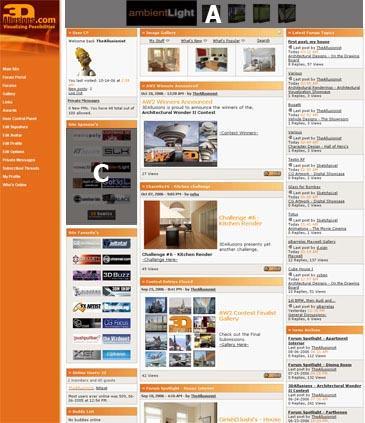 Forum Home: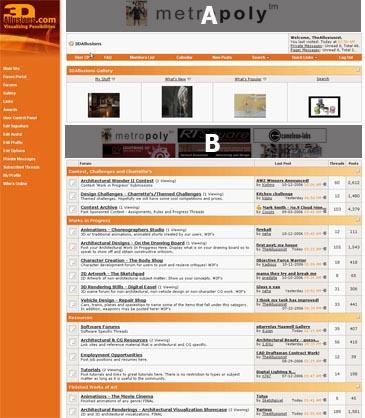 Forum Threads: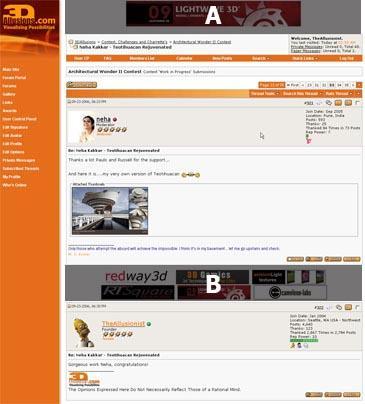 Approximate average monthly activity based on the last six (6) months:
· Unique Visitors: Contact Us
· Page Views: Contact Us
· Hits: Contact Us
Pricing based on 3 month, 6 month and 1-year durations. Please contact us through the contact from for availability and specific price information.
* Main Site software limitation, compatibility issues with FireFox and Flash banners.
3DAllusions Awstats Q1:

Jan 2009
Unique Visitors Number of visits Pages Hits
23,105 33,976 307,781 2,643,970 (Viewed traffic)374,477 (Not viewed traffic)


Feb 2009
Unique Visitors Number of visits Pages Hits
21,297 33,177 294,259 2,388,798 (Viewed traffic) 238,366 (Not viewed traffic)


Mar 2009
Unique Visitors Number of visits Pages Hits
24,414 36,860 353,594 2,643,460 (Viewed traffic) 392,115 (Not viewed traffic)
Also Consider our other site MrMaterials.com
MrMaterials Awstats Q1:

Jan 2009
Unique Visitors Number of visits Pages Hits
14,951 32,347 343,166 3,036,601 (Viewed traffic) 346,581 (Not viewed traffic)


Feb 2009
Unique Visitors Number of visits Pages Hits
14,945 33,079 461,185 3,137,219 (Viewed traffic) 214,930 (Not viewed traffic)


Mar 2009
Unique Visitors Number of visits Pages Hits
17,233 36,287 551,638 3,221,559 (Viewed traffic) 160,751 (Not viewed traffic)