Faking Mist/Fog in PhotoShop
This is a simple tutorial for creating mist effect on a rendered image using Photoshop. It is based on the method Aaron Coon showed in his Architectural Wonder II contest entry.
Step One:
Let's start with this image of a water body reflecting a structure.
Step Two:
Open the rendered image in Photoshop and create a new layer for mist. Using the rectangular marquee tool, let's draw a box for the mist. Go to filter / render / clouds to create the mist. Be sure to have black and white in the background and foreground color boxes.
Step Three:
Now with the magic wand tool selected, right click on the fog layer and choose color range. Use the eyedropper to select the darkest area of black. Use the fuzziness slider to determine how much of the dark area to select. Go to select / feather, and specify a few pixels for the feather radius, this will help blur the edges of our selection. Now delete the selected dark areas.
Step Four:
Using control+T to transform the layer, adjust the mist to fit the desired area. (Using ctrl+click, you can move the points for transformation individually)
Step Five:
With a softened brush, erase the hard edges of the mist layer.
Step Six:
With a gradient selection, erase or lighten some of the mist in the background to give it depth.
Step Seven:
Go to Image/ Adjustments / Brightness/contrast to adjust the brightness and contrast of the mist.
Example of Final Result: This is the final result Aaron achieved in his Architectural Wonder II contest entry.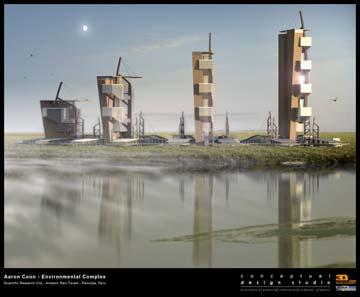 Aaron Coon, ALA, ASAI
Conceptual Design Studio
www.cds-architect.com
Edited by Neha Kakkar.
There are no comments posted here yet