Maxwell Material Editor
This is a simple introductory tutorial on how to use the Maxwell's Material Editor.
Here you'll learn how to acess to it, browse thru libraries and the several sections and tabs that compose this material editor, so let's rock!!
There are 3 diferent ways to gain acess to the ME:
1 - Thru the menubar inside Studio or shortcut Ctrl+3 (fig.1);
2 - Thru the Windows Start menu, All programs...(fig.2);
3 - Thru Windows Explorer, by double clicking on any .mxm file (fig.3);
The ME is divided in 2 diferent parts. The Editor (fig.4) and the Browser (fig.5) which can be acessed thru the two tabs on the top of the window.
| | |
| --- | --- |
| | |
| fig.4 | |
| | |
| fig.5 | |
In Editor, you can create all sort of materials by playing with all the options available for that end. You can see that it has 3 diferent areas (fig.6).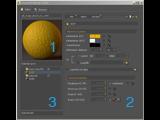 fig.6
1 - Material Preview - Here you can see with a reasonable acuracy, how the material will look in your rendered scene. There are many options that you can set in order to turn that preview faster (less acurate) or more acurate (slower). You can acess to this options by right clicking over that area and a popup menu with appear where your mouse cursor is (fig.7). In this menu, you can chose to load a scene previously saved to render out with the material you're working on. In the Set Preview Options, you can change the parameters used to preview your material, i usually use a Quality Factor of 8 and leave the rest to its default values. The rest of the menus are diferent layouts that you can chose to preview your material, i usually use the Stage1_Tom. After you set it all just click on the top right yellow icon to preview your scene.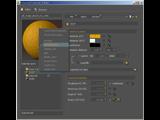 fig.7
2 - Material Properties - This area is where are located all the optical and surface parameters from each component or layer of the material. Here you can set values and texture maps for parameters like the reflectance, IOR, bump, etc.
3 - Material Components - This area is where you can create the material components (layers) and the way they relate with each other. You can add as much layers you need to create the effect you're looking for. By right clicking on this area, a popup menu will appear (fig.8). This will give you the option to add several types of layers and to reset its paramaters or to delete layers.
Is also here where you can set the way layers are mixed by numeric values or weitght maps.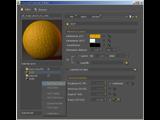 fig.8
The Browser is where you search for diferent material libraries located in your HD or any other location. For example, after you download our pB Rough Stucco 01 library, you can extract it to the Maxwell default location for mxm files, like C:/Program Files/Next Limit/Maxwell/materials database/mxm files, or to any other location, then just acess to it by clicking on the litle folder icon. After you select the library, you get previews from all the materials inside this library (fig.5). These previews images are the ones that you see in the Material Preview area in Editor. Here you can double click on the material or drag it to the material list when you're in Studio, to gain acess to all its parameters.
Besides the materials available for download in our Resources section, you have the official Maxwell website for that purpose.

We hope you found this tutorial useful. This is just to give you some guidelines, more tutorials on creating materials will be available and more advanced topics will be covered. We are always looking for quality content, if you wish to share your knowledge with others please contact us.
There are no comments posted here yet